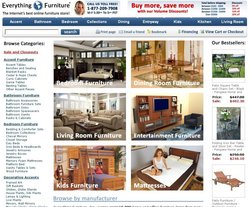 A tremendous effort has been successfully implemented to add furniture videos and a smarter search engine on our family of websites
Corona, California (PRWEB) September 12, 2007
Offering one of the largest selections of any online furniture website has been an important factor in the continued success for EverythingFurniture.com. With the addition of new furniture videos and a better search function, the company is working hard to make sure it's customers had the best online presentation and tools to refining the furniture products they are looking for.
Scott Perry, President and CEO of Everything Furniture Inc. stated "A tremendous effort has been successfully implemented to add furniture videos and a smarter search engine on our family of websites" The company has multiple websites selling furniture and recently added another with the acquisition of competitor Furniture Paradise.
Mr. Perry states that there are many advantages to buying furniture on it's website versus buying at a local store. The main factors being convenience, price and furniture product selection. "Furniture product selection is one of the most important factors."
Customers of EverythingFurniture.com tend to be busy professionals with little time to drive from furniture store to furniture store. The company constantly receives positive feedback from its customers appreciating the size and depth of the furniture selection. Now with a refined search in place finding the furniture you want is easier than ever.
About EverythingFurniture.com:
Founded by husband and wife team Scott Perry and Meg Perry in 2002, EverythingFurniture.com has quickly become of the leaders when it comes to retailing furniture on the Internet. Most of the company's furniture products are in stock and delivered in just a few weeks. The company is also listed in the prestigious Internet Retailer's top 500 E-commerce websites as well as in Inc. Magazine as one of the countries fastest growing private companies landing in at an impressive 46 out of 500 on the list.
EverythingFurniture.com and its products have been featured by numerous leading media, Including ABC's Hit TV Show Extreme Makeover Home Edition, USA Today, Internet Retailer Magazine, Upscale Magazine, Wine Spectator, American Express Ventures and All You magazine.
Contact:
Mary Elizabeth, Director of Public Relations
Everything Furniture Inc. ™
951-372-8090
Everything Furniture
###