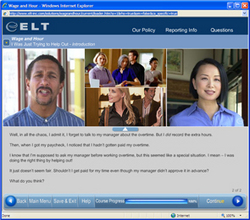 While most employers focus training efforts on harassment and discrimination prevention, federal wage and hour class actions outnumber all other federal discrimination class actions combined. Wage and hour claims are the next tidal wave of risk exposure -- so it naturally follows that wage and hour is the new area to target when it comes to employee training
San Francisco, CA (PRWEB) September 12, 2007
With an estimated 80% of employers out of compliance with federal and state wage and hour laws, organizations are struggling to manage the risk of wage and hour claims. ELT, a leading provider of online compliance training, offers a first-in-industry solution to actually lower an organization's risk profile.
The biggest employer fear? Class action lawsuits, which are exploding in number and fetching multimillion dollar damage awards. Between 2004 and 2006, the number of federal wage and hour cases increased by 86%, and the number of multi-plaintiff cases increased by 70%. The threat is so pervasive, many organizations are now including wage and hour violation fines as a fixed line item in their budgets.
Why the astonishing increase in wage and hour liability? Most employees and managers do not know the most basic information about time recording and reporting, so mistakes are excessively common and easy to uncover. The plaintiffs' bar has discovered that these cases are easy to find, easy to win, and the rewards are high.
ELT's new Wage & Hour course helps employers comply with federal and state laws, establish affirmative defenses, and ultimately, avoid lawsuits. The program educates employees about the basics of the law, as well as an organization's specific policies. A clip of the new product can be viewed at http://www.elt-inc.com/solutions/wageandhour/current/wage-and-hour.html.
The course exposes learners to critical policies about time keeping and clearly defines prohibited practices. With versions for both employees and managers, the program brings the law and an organization's policies to life by using cutting-edge, story-based simulations where learners interact with characters. The highly customizable course can be seamlessly configured to reflect key state law differences as well as industry specific requirements, addressing retail, hospitality, services, office or mobile environments.
"While most employers focus training efforts on harassment and discrimination prevention, federal wage and hour class actions outnumber all other federal discrimination class actions combined. Wage and hour claims are the next tidal wave of risk exposure -- so it naturally follows that wage and hour is the new area to target when it comes to employee training," said Shanti Atkins, President & CEO of ELT. "Clients come to ELT for help managing their wage and hour compliance challenges, because they resonate with our approach of targeting subjects that represent the greatest risk, and that impact the largest number of employees. We develop our programs hand-in-hand with Littler Mendelson, the world's largest and most experienced employment law firm. The Wage and Hour course has been meticulously engineered by the top legal experts in the country -- leading authorities who understand what resonates with judges, juries and regulators."
ELT provides employers of all sizes and across multiple industries with online compliance training of unparalleled quality. Featured in the New York Times and Fortune Small Business Magazine as one of the premier online training providers, ELT's programs have been used by more than 2 million learners in more than 800 leading organizations across the United States. ELT's courseware is built upon the renowned legal expertise of the global law firms Littler Mendelson and Shearman & Sterling, using Legal Engineering™ to help establish invaluable defenses to workplace litigation. Programs also feature cutting edge instructional design to provide a training experience that educates, entertains and engages. Demos of ELT's courseware can be found at http://www.elt-inc.com.
###