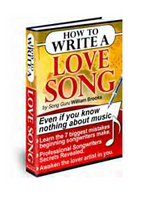 New York City, New York (PRWEB) September 14, 2007
With the explosion of self-produced music videos on MySpace.com, the ever-increasing popularity of "American Idol" and "Americas Got Talent", William Brooks has written the perfect E-book for the aspiring singers, songwriters and performers scrambling for position. "How To Write A Love Song (even if you know nothing about music)" is for anyone who wants their star to shine, whether it's on the web, national television or their own back porch.
"How To Write A Love Song" is a hilarious, insightful and inspiring step-by-step guide to helping anyone who wants to write his or hers first love song. All the tools needed to write your first love song are here, along with helpful shortcuts to take and frustrating pitfalls to avoid.
New York City singer/songwriter William Brooks wrote "How to Write a Love Song" to show how simple, fun and easy songwriting can really be. It is written in a clever, fun and straightforward manner that includes such useful topics as:

The 7 biggest mistakes beginning songwriters make and how to avoid them!
How you don't need to know how to read music or play an instrument to write a love song!
That if you can talk and tell a story you can write a song!
Link to Publication HowToWriteALoveSong.com
About Author
The love songs of William Brooks have been heard on "The Late Show with David Letterman", CBS's "How I Met Your Mother", "Good Day New York" and VH1. His other credits include 4 NYC independent film soundtracks, 6 full length CDs on Sawhorse Records and placements on numerous compilation CDs. William Brooks is also the most downloaded American artist on Japan's Tuneami.com
William has been honored as a New Folk Finalist at America's most respected folk music festival, The Kerrville Folk Festival. Received a Meet the Composer Grant from New York State Council on the Arts. His works have been performed at The Songwriter's Hall of Fame, Songwriter's Guild of America Pro-Shop and the prestigious New York Songwriter's Circle.