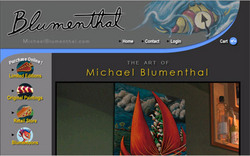 non-pretentious, non-intimidating way to purchase original and limited edition artwork at fair market value prices.
Delray Beach, FL (PRWEB) September 17, 2007
Newly opened michaelblumenthal.com, an online art gallery and interior design service, will donate 10% of every sale to the cause of innovative autism training. The art gallery is pledging substantial support to the Autism Treatment Center of America with the intention of helping to fund the training of parents and professionals. Donations will help with the discovery and refinement of innovative methods that help autistic persons capitalize on the gifts often hidden within the autism's challenge.
Michael Blumenthal, whose eye-popping blend of cubism, pop art, and surrealism painting fills canvases with dynamic, Technicolor life forms, has funneled his personal challenges into great success as an artist with both a following and a future.
Inspired by his parents and by instructors at the Ringling School of Design, Blumenthal has carved a creative niche wherein he focuses his refined sensitivities and original perspective. Blumenthal Arts, Inc seeks to help those with autism discover ways they can share their valuable talents with others, and it does this while it makes the artist's work accessible to everyone.
According to Michael Blumenthal, the site offers a "non-pretentious, non-intimidating way to purchase original and limited edition artwork at fair market value prices." In addition to original art work for sale, limited edition giclees, cartoons, and merchandise based on Michael's art, the site advertises Michael's availability for illustration work. Already, many of his original oils placed in the gallery have sold, and, of course, a portion of any future sales will go to the Autism Treatment Center of America.
These large oil paintings are often five to eight feet tall, and the subject matter is people, places, and things that may often seem other-worldly.
"Double Whammy," for instance, features two cheetahs, one more cubist than the other. "The Pounder Painting" is a striking example of surrealism art, it displays a strange but charming menagerie of sea creatures, some rather unlikely, all composed in dramatic deep-sea color and lighting.
Twenty of Blumenthal's paintings are available as limited-edition prints, and with the site firmly in place, who knows what new original paintings will soon be displayed on its "walls"?
Contact:
To learn more about the Autism Treatment Center of America or to view the art of Michael Blumenthal, please visit michaelblumenthal.com.
About Blumenthal Arts, Inc.:
Original oil paintings, often referred to as pop surrealism, are available for purchase. These creations are in high demand, and so limited edition prints are offered at a more affordable price to those who would like to enjoy and display Blumenthal's surrealism painting in their homes or businesses. In addition, Julie Blumenthal, who specializes in both commercial and residential design, will complement any purchase with free design consultation. On-site design services are available for a fee.
###