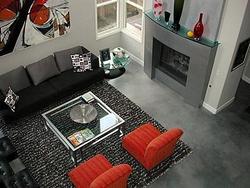 Yucaipa, CA (PRWEB) September 14, 2007
Recognized as a new material of choice for designers and homeowners across the country, one of the most common place's you see decorative concrete these days is under your feet. Once primarily found in retail stores, restaurants, and offices, these trendy floors are making their way into homes. With options like staining, painting, and coloring, concrete artisans are transforming common tile, wood, and linoleum floors into personalized and functional works of art.
The Concrete Network, the largest and most comprehensive source for concrete information, offers an online interior concrete floors photo gallery. Recently updated, the gallery is filled with over 220 photos featuring finished interior concrete floors, offering a multitude of design ideas on enhancing your interior floors from ordinary to extraordinary using decorative concrete techniques.
The process of choosing the perfect interior floor application to accent your home and décor can be time consuming and tedious, and for this reason The Concrete Network offers a detailed section offering information on today's available options, designs, colors and much more.
The concrete photo gallery is updated every Friday offering new photos of custom and unique designs and applications. Photos for the photo gallery have been collected from contractors around the United States and Canada and are for design idea purposes only.
Established in 1999, The Concrete Network's purpose is to educate consumers, builders, and contractors on popular decorative techniques and applications. These include stamped concrete, stained concrete floors, concrete countertops, polished concrete, and much more. In July 2007 The Concrete Network Website had over 1.3 million visitors researching decorative concrete.
The site excels at connecting buyers with local contractors in their area through its Find-A-Contractor service. The service provides visitors with a list of decorative concrete contractors throughout the U.S. and Canada, and is fully searchable by 23 types of decorative concrete work and 200 regional areas throughout North America.
Photos courtesy of Masterpiece Concrete Compositions.
###