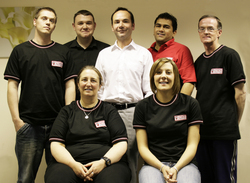 Glasgow (PRWEB) September 13, 2007
Bellcom Ltd. are celebrating the winning of one account and the retention of another. Xerox has just appointed Bellcom to drive a campaign aimed at increasing sales through their extensive reseller network. Also, Dell has renewed their contract with the company, which means the continuation of a very successful relationship.
Bellcom Ltd is a contact centre that specialises in providing inbound and outbound services for its clients. Their team is made up of skilled and experienced professionals with a proven track record in developing and delivering exceptional results and performance for the companies that they support.
Bellcom aims to develop long-term relationships with their clients and attributes its success to the team's ability to nurture, develop and grow in partnership with its client base.
Bellcom will be helping Xerox to deploy a marketing solution that will increase its revenues through improved engagement with their resellers across the world. Xerox wants to drive growth from its printer business and from a supplies annuity stream. Bellcom aims to develop a robust, quality solution, which will provide a successful, long-term campaign.
Dell has recently confirmed that they will be retaining the services of Bellcom. Dell has now been working with Bellcom for over 5-years. Over the period of the contract Bellcom have successfully increased revenues from $400k per quarter to $8 million per quarter.
Clients include: Centrica Business Services, Standard Life Healthcare, Talk Talk Business, Daily Record, Orange and Optical Express.
Company Information:
Bellcom was formed in 1998, originally part of Coltas Advertising; they changed their name to Bellcom in 2004 to mark a clear segregation between the companies.
Contact:
Varry McMenemy, Operations Director
Bellcom Ltd.
0141 274 4000
http://www.bellcom.co.uk
###