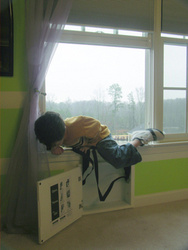 Today, the average consumer is not aware of the options and life-saving benefits of permanent escape ladders. Our partnership with Costco means homeowners can finally purchase PEARL easily and from an established brand they trust. We look forward to growing our relationship with Costco in the future and thank them for helping us take our message of home safety preparation to the masses
Atlanta, GA (PRWEB) September 13, 2007
PEARL Protected®, creators of the patented Permanent Escape And Rescue Ladder (PEARL®) for two and three-story homes, today announced that Costco.com will be the first major online retailer to offer the PEARL permanent escape ladder direct to consumers. Beginning this week, homeowners and other consumers can purchase PEARL at http://www.costco.com.
With $60 billion dollars in revenue and more than 49 million members, Costco is one of the world's most successful retailers. The PEARL permanent escape ladder is the first product of its type to be offered by a major online retailer. Depending on the success of this online offering, Costco will determine if it will sell PEARL in its 500+ retail locations throughout the world.
According to the National Fire Protection Association, there are more than 380,000 home fires each year. These fires kill more than 3,000 civilians and injure an additional 13,300. Many of these casualties are the direct result of not being able to escape from upper-story bedrooms. The PEARL permanent escape ladder provides a safe escape from fire, home invasion and other life-threatening emergencies. Each ladder is inconspicuously and permanently installed into the interior wall space beneath second and third-story windows, thereby providing an "always there" means of escape. Like an air bag for the home, it is right where you need it, when you need it.
"Today, the average consumer is not aware of the options and life-saving benefits of permanent escape ladders. Our partnership with Costco means homeowners can finally purchase PEARL easily and from an established brand they trust. We look forward to growing our relationship with Costco in the future and thank them for helping us take our message of home safety preparation to the masses," said David Duley, CEO, PEARL Protected.
Since PEARL's debut in October 2005, it has become one of the most recognized home safety products in the marketplace. PEARL has received the Home Safety Council's 2006 Product Innovation Award and has been featured on multiple episodes of ABC's Extreme Makeover: Home Edition. PEARL has been also been showcased on NBC's Today and CBS's The Early Show.
For more information about PEARL Protected, visit http://www.pearlprotected.com.
About PEARL Protected
Headquartered in Atlanta, Georgia, PEARL Protected is redefining the standards of home and fire safety through its patented, breakthrough product - PEARL - a revolutionary Permanent Escape And Rescue Ladder that can be quickly and easily deployed in the event of a residential fire or other home emergency. It is currently available through a variety of channels, including the company's national installation partner - Mr. Handyman, homebuilders, building supply dealers, security companies, remodelers and other maintenance specialists. PEARL can also be ordered directly through the PEARL Protected website (http://www.pearlprotected.com) or via phone at 800.374.5737.
###