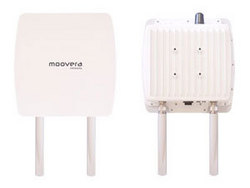 The Moovbox F Series takes advantage of next-generation cellular networks to deliver a truly innovative and modular Wi-Fi solution
Sittingbourne, UK (PRWEB) September 13, 2007 -
Moovera Networks, a leading developer of fixed and mobile wireless broadband technology, has announced the availability of an outdoor access point and router that combines Wi-Fi access with cellular backhaul including 3G UMTS/HSPA and WiMAX. The Moovbox F Series Fixed Broadband Gateway is a compact, weatherproof device that leverages carrier-class wide area networks (WANs) for connectivity rather than wireline services such as DSL or cable. The Moovbox F Series supports a wide range of plug-and-play mobile data cards enabling quick deployment of outdoor Wi-Fi zones wherever there is high-speed carrier network coverage.
"The Moovbox F Series takes advantage of next-generation cellular networks to deliver a truly innovative and modular Wi-Fi solution," said Jim Baker, CEO and founder of Moovera Networks. "Technologies such as HSUPA and 802.16e can deliver speeds approaching landline broadband, and the Moovbox F Series bridges these with Wi-Fi for a wide range of commercial, corporate and public sector applications."
The Moovbox F Series Fixed Broadband Gateway features a ruggedized IP-67 rated aluminum chassis that can be mounted to walls or street furniture such as lamp posts. In addition to the on-board Wi-Fi® Certified 802.11 a/b/g radio, the Moovbox accepts a single PCMCIA/CardBus or ExpressCard WAN radio from a variety of manufacturers including Option, Sierra Wireless, Huawei, IP Wireless, Kyocera, Zyxel, ZTE and Novatel. The open slot architecture ensures that the Moovbox is ready to support future wireless broadband technologies such as LTE (Long Term Evolution).
Due to its backhaul-agnostic approach, Moovera expects the Moovbox F Series to be popular in a wide variety of markets including municipal Wi-Fi and public safety. "The F Series is highly complementary to muni wireless, removing a lot of the complexity of designing mesh networks by providing dedicated backhaul to each access point," continued Baker. "As mobile providers such as Vodafone in Europe and Sprint in the US improve base station capacity and speed, flexible cellular-driven Wi-Fi access points like the Moovbox will become increasingly popular. With the installed base of Wi-Fi-enabled devices expected to exceed 250 million units by 2011 (source: ABI Research), a successful network will be a converged one that embraces Wi-Fi, 3G and WiMAX and that's exactly what the Moovbox delivers."
The Moovbox F Series F100 has a suggest list price starting at £599 (US$1,190) and is available via a network of distributors and resellers worldwide. The F Series complements the Moovbox M Series of mobile broadband routers designed for public transport and other vehicular applications. Further details can be found at http://www.moovera.com
About Moovera Networks:
Based in the United Kingdom, Moovera Networks is a privately-held manufacturer of industrial-grade fixed, mobile and portable wireless communications products that bridge Wi-Fi access with carrier-class networks including WiMAX, TD-CDMA, HC-SDMA and 3G UMTS/HSPA. Applications include commercial hotspots, municipal wireless, public safety, IP-based security and telematics, and secure corporate communications.
For further information contact:
Moovera Networks
Dave Palmer
Phone: +44 (0)870 446 0461
###