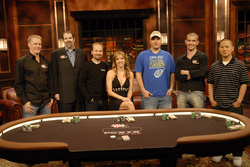 Las Vegas, NV (PRWEB) September 14, 2007
NBC's Poker After Dark brings viewers yet another exciting new episode next week, as six top pros that have experienced tremendous success on the tournament circuit face off against one another in a unique match-up. Only eight players have ever won two or more WPT events that are open to anyone, and this match will feature six of them. Competing for the $120,000 winner-take-all prize and exclusive bragging rights will be Gus Hansen, Howard Lederer, Erick Lindgren, Daniel Negreanu, Tuan Le and Michael Mizrachi.
Hansen, Lederer, Lindgren and Negreanu have appeared on Poker After Dark in the past, and all but Lindgren have laid claim to a victory. This marks the fourth appearance on the show for Gus, the third for Daniel and Howard, and the second for Erick, giving these players a slight edge over newcomers Tuan Le and Michael Mizrachi, who are making their PAD debut.
Though there are marked differences in the playing styles of these competitors, the common denominator they possess is that they all know how to win. Collectively, these six have amassed tournament winnings of more than $34 million, making them among the most successful group of players that Poker After Dark has ever assembled. Fans of the show are in for a real treat, as this is a highly entertaining match and one from which much can be learned.
Brief profiles of all six players follow. The match will begin airing on NBC late night Monday at 2:05 a.m., September 17, and will continue for five consecutive nights in the same time slot. A special program called the "Director's Cut" will air late night Saturday, September 22, at 1:00 a.m., right after Saturday Night Live. This show will feature a behind-the-scenes look at the week with highlights and insightful player interviews.
Each of the match's six segments can also be viewed daily at http://www.nbcsports.com/poker and at http://www.pokerafterdark.com. More detailed information on the players is also available at these websites.
This is not an easy match to handicap, as there are no soft spots in the lineup. But it is exactly the kind of match that viewers of Poker After Dark have come to expect.
Erick Lindgren: (Seat 1)
•Nicknamed "E-Dog," Erick started playing poker full-time as a prop player for a California casino at the age of 21
•Lifetime tournament winnings in excess of $5.62 million, and ranks 23rd on the all-time money list
Howard Lederer: (Seat 2)
•Highly regarded as a television poker commentator and analyst, "The Professor" has also won two WSOP bracelets
•Career tournament winning in excess of $3.40 million
Daniel Negreanu: (Seat 3)
•Dubbed "Kid Poker" and one of poker's most likeable and recognizable personalities
•Lifetime tournament winnings in excess of $9.78 million, and ranks 3rd on the all-time money list
Michael Mizrachi: (Seat 4)
•Nicknamed "The Grinder," and Card Player magazine's Player of the Year in 2006
•Despite being just 26 years of age, has career tournament winnings in excess of $5.91 million, and ranks 20th on the all-time money list
Gus Hansen: (Seat 5)
•Nicknamed "The Great Dane" and "Gambling Gus," Hansen is a difficult player to read because of his loose aggressive and sometimes reckless style of play
•Lifetime tournament winnings in excess of $5.05 million, and ranks 30th on the all-time money list
Tuan Le: (Seat 6)
•Regarded as a player who is fearless, Tuan credits Barry Greenstein with being his mentor and significantly improving his tournament results
•Career tournament winnings in excess of $4.59 million, and ranks 35th on the all-time money list
This press release was written by Dennis Oehring, who is a freelance writer and poker consultant and works with the firm POKER-PROductions. Statistical information courtesy of The Hendon Mob player database. Photo courtesy of NBC's Dave Bjerke.
# # #