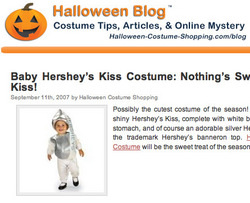 A Halloween Blog was a great addition to our successful Halloween Costume site
Austin, TX (PRWEB) September 13, 2007
The Halloween Blog on Halloween-Costume-Shopping.com is your one-stop shop for all things Halloween in 2007.. The Halloween Blog offers Costume of the Day ideas, Costume Tips, The Mask Online Halloween mystery, articles about Halloween, and more! Everything you need to know for Halloween 2007--devilish decorations, delicious treats, and decadent costumes--is all in one place at the Halloween Blog. And most importantly, the Halloween Blog offers information on the latest Halloween costume coupons and other Halloween coupons and Halloween promotions, so you can save money on the coolest costumes around.
Stop fretting about your Halloween costume search and start finding the best Halloween costume for your needs this year. The Halloween Blog's Costume of the Day feature offers a suggested costume each day to help you narrow down your search for the ultimate Halloween costume in 2007! The blog also has tons of articles suggesting Halloween costumes for kids and adults alike. Find Men's Halloween Costume Ideas, Women's Halloween Costume Ideas, Kids' Halloween Costume Ideas], and Baby Halloween Costume Ideas. Buy a Halloween costume online based on the Halloween Blog's expert Halloween costume tips, and save with Halloween coupon codes and other Halloween promotions.
The Halloween Blog is proud to present, "The Mask", a 15-Day Halloween Mystery to provide a daily dose of mystery fun this Halloween season! Written by award-winning author Henry Slesar, The Mask has one installment available for reading right now, and additional episodes will be posted from October 2 to 21. Prepare to be scared by this gripping Halloween mystery!
Additional Halloween Blog content includes the Top 10 Halloween Costumes for 2007, it also features the Top 10 Ways to Look Sexy this Halloween and more! Beyond Halloween costume tips, the Halloween Blog also has special sections for Halloween decorating, Halloween crafts, and Halloween games. Other articles cover Halloween history, Halloween party ideas, and Halloween treats you can make at home. Read the Halloween Blog today for all the Halloween news you need!
"A Halloween Blog was a great addition to our successful Halloween Costume site," said Sally Grace, editor of the Halloween Blog. The all-new Halloween Blog makes Halloween-Costume-Shopping.com a more complete resource for finding not only Halloween costumes, but also Halloween costume ideas, Halloween party tips, tricks, treats, mysteries, and more. It's the perfect way to round out your Halloween costume shopping experience.
Start reading the Halloween Blog today to ensure that your family has a fun and safe Halloween season filled with Halloween crafts, Halloween games, Halloween treats, Halloween coupons, and above all the best Halloween costumes for 2007!
About the Halloween Blog
The Halloween Blog was created by the editor of Hallowee-Costume-Shopping.com to expand the website to provide costume ideas, articles, and Halloween fun for the entire family. Everyone's Halloween will be more fun--and more mysterious--with the Halloween ideas and mysteries included on the Halloween Blog.
###