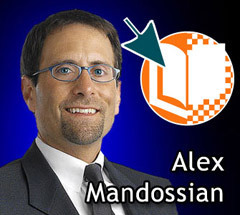 Marketing Your Book with Repurposing: The What, Why & How of Turning Your Book into a Gold Mine
Novato, CA (PRWEB) September 13, 2007
Alex Mandossian, one of the top-ten Internet direct marketers in America, has just posted an article that addresses the concept of repurposing content and boosting profits. The article, "Marketing Your Book with Repurposing: The What, Why & How of Turning Your Book into a Gold Mine," can be found at http://www.AlexMandossian.com.
Repurposing is the art of making one idea many, or turning one product or message into an unlimited number of messages that appeal to different market segments. The more markets you can appeal to, the more money you can make.
"One book can essentially be repurposed into an entire business," says Mandossian. "Repurposing is an inspired way to increase profits as I think you'd agree it's much easier to repackage a product for a new market than it is to create an entirely new one."
Alex Mandossian explains the concept of repurposing and gives several examples of repurposed content packages, including audio books, eBooks, blogs and teleseminar s. He also details how profits increase based on the type of consumption of the materials, from informal to very personal.
Upcoming articles will address in more detail the many ways to repurpose content and accelerate profits. Readers will learn:

Many other quick and easy ways to repurpose content, including how to use other people's to accelerate profits
How to embrace Internet technology to expand the markets for your book
How one author increased the price of his book by 500% and turned it into a best seller (and how you can do it too).
Why customers want (and will buy) repurposed content in multiple forms. (In fact, if you don't offer your content in multiple ways, you're leaving money on the table and doing a disservice to your customers)
Why you have a responsibility to get your message out into the world in as many forms as possible.
To access the complete article series, visit http://www.AlexMandossian.com .
Alex Mandossian has consulted Dale Carnegie Training, NYU, Agora Publishing, Mutuals.com, Pinnacle Care, Strategic Coach, Trim Spa as well as thought leaders such as Jack Canfield, Vic Conant, Mark Victor Hansen, Les Brown and many others. He is the CEO and Founder of Heritage House Publishing, Inc.
More information can be found at http://www.AlexMandossian.com , and his Virtual Book Tour Secrets can be found at http://www.VirtualBookTourSecrets.com.
###