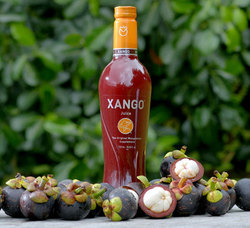 The mangosteen has transcended trend status as consumer interest and repeat sales of XanGo Juice continue to surge worldwide.
Lehi, UT (PRWEB) September 14, 2007
Five years after bringing the mangosteen out of obscurity with its category-creating product, XanGo® Juice, global nutritionals leader XanGo, LLC is evolving its brand to reflect its billion-dollar destination as the company continues to dominate the mangosteen supplement category.
Led by a world-class executive team and more than 750,000 independent distributors worldwide, XanGo is educating the world about the "queen of fruits" through credible science and a premium product. Through the development of its corporate brand and expansion into international markets, XanGo now holds 80 percent of the U.S. mangosteen revenue market share.
"XanGo's brand power comes from the excitement of discovery, the thrill of innovation and incredible passion for our business. With our distributors, XanGo has created a unique, globally popular product from a fruit previously unknown to much of the world. Over the past five years, we have seen tremendous growth as we continue to evolve our brand through leadership and distinct initiatives," said XanGo's CEO, Aaron Garrity. "The mangosteen has transcended trend status as consumer interest and repeat sales of XanGo Juice continue to surge worldwide."
Branded with a distinct custom bottle design and color scheme and set apart by its delicious taste and nutritional benefits, XanGo Juice leads in the minds of health-conscious consumers. Overseeing an evolving brand, XanGo remains focused on producing superior mangosteen and nutritional products.
To further strengthen its global brand image, XanGo is introducing a new bottle featuring updated brand elements that reinforce its category creator position and worldwide market leader, including the use of the bold XANGO logotype and the Whole Fruit icon.
The new bottle also facilitates enhancements in XanGo's manufacturing practices to meet the needs of international markets. Even though its products currently pass more than 220 quality tests, XanGo has further enhanced its manufacturing process and this fall will introduce a new bottle design that facilitates an improved flash pasteurization of XanGo's proprietary whole fruit formula.
As the mangosteen category leader, XanGo continues to be the forerunner with initiatives such as:

Mangosteen research - XanGo is spearheading the scientific exploration of the whole mangosteen fruit through a tiered approach based on safety, standardization and efficacy. In a study published in the June 2007 issue of the Journal of Separation Science, researchers established a credible scientific method for testing and measuring the nutrient-rich xanthones found in the mangosteen. XanGo also released preliminary results from a separate bioavailability study that will lay the ground work for upcoming clinical trials.
Landmark jersey-front sponsorship - XanGo recently expanded its brand through a landmark jersey-front title sponsorship deal with Major League Soccer, the first of its kind in major league U.S. professional sports. As part of the sponsorship, XanGo built and donated a practice facility for Real Salt Lake, located on the XanGo campus.
XanGo Goodness - XanGo's corporate social philanthropy, XanGo Goodness, reflects the importance of giving back to communities through meaningful and sustainable action as well as financial commitment: A portion of the profits from the sale of every bottle of XanGo Juice goes to worthy charities. XanGo Goodness mobilizes XanGo's resources for humanitarian efforts, medical expeditions and volunteer programs to serve and support children and families in communities throughout the world.
Started with six employees, XanGo today operates in 16 countries with approximately 700 employees. XanGo's corporate headquarters are located in Lehi, Utah, and the company also operates a 300,000 square foot distribution center in Spanish Fork, Utah, and several corporate offices across the globe. More than 750,000 distributors participate in XanGo's global network.
For more information about XanGo please visit http://www.xango.com.
About XanGo:
XanGo, LLC is a recognized category creator as the first company to market a premium mangosteen beverage, XanGo® Juice, to consumers worldwide. A delicious daily dietary supplement, XanGo Juice harnesses the nutritional attributes of the whole mangosteen fruit through a proprietary formula. Based in Utah, XanGo is privately owned and powered by a global network of independent distributors. XanGo's expansive operations include the U.S. and numerous international markets such as Canada, Mexico, Japan, Germany and Malaysia.
For more information on XanGo, visit http://www.xango.com.
###