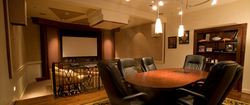 Knoxville, TN (PRWEB) September 17, 2007
The media room or home theater system remains one of the most popular and exciting home remodeling projects. HGTV Pro, the first video-rich online network for homebuilders, leads builders and consumers down the path to audiovisual nirvana with the launch of its a new information section, "The Fourth Trade: Audio, Video and Home Control," a series of how-to articles, best practices and informative video clips covering every aspect of creating user-friendly media rooms and home automation systems.
The video-driven section begins with a simple introduction to media rooms for builders and knowledgeable consumers that includes information on how to help a home stand out by including integrated electronics such as structured wiring, distributed audio and a home theater system.
A section on "future proofing" the home helps builders assure homeowners that today's remodeling project will remain tomorrow's vital component of a well-built home.
Other topics covered include best practices for retrofitting older homes for modern technology, how to attack challenges relating to sound and lighting, and a series of video clips showing examples of how homeowners undertake their own media room renovations using simple plans and supplies.
HGTV Pro visitors can also check out Home Smart Home, an informative section that walks builders and consumers through steps to create automation systems in homes where electronics close blinds, dim lights and warn when the water heater is leaking.
A June 2007 study by the research firm Acclaro Growth Partners found that spending on audiovisial products and services reached $25 billion in 2006, and is growing at about 12 percent per year.
About Scripps Networks Interactive:
The dynamic Web sites created and supported by Scripps Networks Interactive attracted an average of more than 13.5 million unique visitors per month in 2006. The Scripps Networks Interactive properties -- Web sites HGTV.com, FoodNetwork.com, DIYnetwork.com, FineLiving.com, GACTV.com, Recipezaar.com, along with broadband channels HGTV Pro, HGTV KitchenDesign, HGTV BathDesign, HGTV Simply Quilts, DIY Automotive, DIY Crafts, DIY Gardening, DIY Home Improvement, DIY Woodworking and GAC Still Rollin'-- are not only extensions of Scripps Networks leading lifestyle brands, providing users programming information and additional instructional content, but also exciting destinations for original content, engaging video and powerful interactive tools.
###