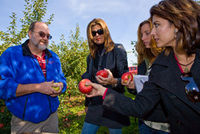 McDonald's really pioneered the concept of ready-to-eat sliced apples
Swedesboro, N.J. (PRWEB) September 19, 2007
Nutrition, food safety and ingredient quality are most important to moms when taking their families to fast-food restaurants. In addition to feeling that the industry should provide more information on the food they serve, moms are also looking for more fruit and vegetable choices while on the go due to their families' busy schedules. To help address these and other questions, McDonald's® is opening its doors to the Moms' Quality Correspondents offering them an unprecedented look at the company's produce and supply chain.
Over the course of three days, the six Quality Correspondents will tour McDonald's apple supply chain - from the farm to the supplier. They are exploring an apple orchard near Buffalo, N.Y., a nearby produce packing facility, and Missa Bay, an apple and produce supplier in Swedesboro, N.J. The Quality Correspondents are seeing first-hand how the apples are picked, sorted, bundled, washed, cored, peeled, seeded, sliced, chilled and packaged ready to be delivered to the restaurant.
In addition to meeting the Missa Bay quality assurance team, the Quality Correspondents will speak with McDonald's produce quality assurance and menu development experts. The moms will learn how Missa Bay and McDonald's have worked together to develop innovative techniques that put fresh produce, such as apples in Apple Dippers and the Snack Size Fruit and Walnut Salad, on the menu and to ensure produce quality at McDonald's restaurants. Demand for these menu items has made McDonald's the No. 1 buyer of apples in the U.S. restaurant industry.
"McDonald's really pioneered the concept of ready-to-eat sliced apples," said Sal Tedesco, Chief Operating Officer of Missa Bay. "We specifically built the production line to process apple slices for McDonald's. During their tour, the Quality Correspondents will see the entire process of how the apples are handled, from the orchard where they are grown to the processing plant where they are prepared to be sold at the restaurant."
Tonia Welling, a McDonald's Quality Correspondent and mother of four from Bentonville, Ark., is learning as much as she can about McDonald's food quality so she can make informed choices for her family. "During our vacation, I let my children know on two occasions at McDonald's that they would be getting Apple Dippers instead of French Fries for their meals. I like being able to mix and match menu items and customize meals for my family."
Welling says, "During our second tour, I learned a lot about the level of detail, commitment to quality and safety, and the manufacturing process of McDonald's beef and pork suppliers. This time, I am looking forward to discovering how the apples are handled and the different quality checks that are done throughout the packaging process." In addition to Welling, the other McDonald's Moms' Quality Correspondents are:
·Joanna Canizares, Miami, Fla., mother of two
·LaShawna Fitzpatrick- Hughes, Encino, Calif., mother of two
·Monica Fuentes, Anthem, Ariz., mother of three
·Tina Hoxie, Mulliken, Mich., mother of two
·Gilda McHenry, Downingtown, Pa., mother of three
These moms will share their personal experiences from the apple orchard, produce packing facility, and Missa Bay plant via downloadable videos and online journal entries at http://www.McDonaldsmom.com in late September. Visit the site to learn more about the Quality Correspondents or to join the quality community, an online audience of individuals interested in following the Correspondents as they explore McDonald's.
McDonald's launched the Moms' Quality Correspondents program to give everyday Moms extraordinary access to the company's food system - and the opportunity to share what they learn with others. This marks the group's third discovery tour. The six Quality Correspondents, selected from more than 4,000 applicants, began their journey in June with a visit to the company's headquarters where they met with top executives and food quality and safety experts, toured Chef Dan Coudreaut's test kitchen and McDonald's corporate training center -- Hamburger University®. The second stop included a tour of McDonald's beef supplier, Lopez Foods, and a behind-the-counter experience working in a McDonald's restaurant.
About McDonald's:
McDonald's USA, LLC is the leading foodservice provider in the United States, serving a variety of wholesome foods made from quality ingredients to millions of customers every day. More than 80 percent of McDonald's 13,700 U.S. restaurants are independently owned and operated by local franchisees. For more information on McDonald's, visit http://www.McDonalds.com.
© 2007 McDonald's
###