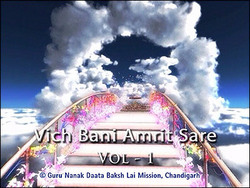 (PRWEB) September 13, 2007
As the time to embark upon year long celebrations of Tercentenary Gur-Ta-Gaddi Divas of Sri Guru Granth Sahib, the living Guru of Sikhs, draws closer, Guru Nanak Daata Baksh Lai Mission has released the first Video Album in a series to be dedicated especially to this sacred event in the Sikh Religion. It was 300 years ago at Sri Huzur Sahib, Nanded, Maharashtra (where Takht Sachkhand Shri Hazur Sahib is now located) that Guru Gobind Singh Ji had passed on the GurGaddi to the Eternal Guru Sri Guru Granth Sahib.
The album has been offered by the Mission at the Lotus of Sri Guru Granth Sahib and is titled "Vich Bani Amrit Sare." It is produced and directed by Brig. Partap Singh Ji Jaspal (Retd.), founder and director of the Mission and features rare divine discourses and Gurbani Kirtan beautifully portrayed and melodiously sung in the Glory of Sri Guru Granth Sahib. Anyone even remotely interested in the Sikh religion or Siri Guru Granth Sahib would benefit immensely from this holy treasure.
The video is available in its entirety on the internet on mission's websites – Sikh Videos Gurbani Kirtan and Sikhism - thy name is Love and Sacrifice to be watched or downloaded for free. Special Video eCards have also been prepared to celebrate this occasion. They are also available on the above websites and give visitors a chance to celebrate the occasion and at the same time spread its message to the near and dear ones.
A couple of more video albums in this series are nearing completion and will be released shortly. Information about the same would be made available by the producers on the above websites. Visitors may also subscribe to the mission's Yahoo group – GuruNanakBakshLai so that they may be informed immediately about the release of these upcoming albums.
About Guru Nanak Daata Baksh Lai Mission:
Guru Nanak Daata Baksh Lai Mission, through which all the productions and publications of Brig. Partap Singh Ji Jaspal (Retd.) are released, is a totally non-profitable mission. It does not accept any donations, monetary or in kind. Whatever Brig. Partap Singh Ji Jaspal inherited spiritually at the feet of his most beloved master Baba Nand Singh Ji Maharaj, and at the feet of his most worshipful father, Baba Narinder Singh Ji, is a most precious treasure of heaven. It is only a humble endeavor of this mission to spread and share the divine fragrance and flavor of this treasure with the whole of mankind and the universe. Such a humble effort on such a vast scale appears to have been made for the first time and is spreading like wildfire all over the world. This mission is purely a labor of love of a family group at the lotus feet of the sole beloved lord of the whole creation and nothing more.
This mission seeks no publicity and serves the whole global community in the firm belief of oneness of godhood and oneness of the mankind.
###