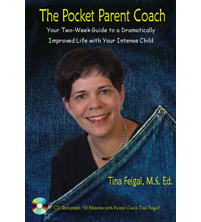 the Twin Cities' own Supernanny
Minneapolis, MN (PRWEB) September 14, 2007
Nationally noted parent coach and trainer Tina Feigal, M.S., Edu., believes that the best treatment for child behavior issues comes from the child's own parents. In her new book, The Pocket Parent Coach: Your Two-Week Guide to a Dramatically Improved Life with Your Intense Child, Ms Feigal walks parents of kids of all ages with ADHD, ODD, autism, anxiety, giftedness, or no label at all, through the process of improving challenging behavior.
The Pocket Parent Coach is short, to the point, and in journal format: just what harried parents need to learn about "present moment parenting." It is a step-by-step guide, not a theory book, for improving child behaviors. Its uniqueness is in the fact that it empowers parents to bring out the best in their intense children, rather than relying on professionals to fulfill that role. It also includes a CD, "60 Minutes with Parent Coach Tina Feigal," that serves the needs of parents who want to review the information in the book.
By learning specific methods for turning child behaviors around, parents gain new skills, new self-esteem, and often-unimagined success. Feigal, founder of The Center for the Challenging Child, taps her experience as a school psychologist, a parent of three sons, and a parent coach to bring a wealth of knowledge and intuition to her work.
In her book, Ms Feigal illustrates these keys to addressing the needs of children with challenging behaviors:

See the child as an organism, reacting for its own protective reasons. Once those reasons are understood, the problems can be resolved without undue emotion.
Hold regular family meetings to discuss the issues that need attention. Plan ahead with the children's input, so there are no surprises in the parents' response to unwanted behavior.
Rehearse infractions and consequences in advance, so the child has a map in his or her brain for what's expected and what to expect.
Avoid triggering opposition by learning the language to use that prevents setting off the child.
Understand the physiological "energy matching" mechanism in the child's brain. The intense brain is seeking an intensity match, which is highly rewarding.
Give substantial emotional energy to desired behaviors, and scrupulously deprive unwanted behaviors of emotional energy. (This is a simple concept, but also where the coaching is needed, as it's not automatic, by any means.)
"It's rewarding to see the light bulbs go off in parents' heads when they realize that they have the power to bring about remarkable change in their children's behavior," says Feigal. "And it often happens the very first week of coaching. The results are frequently so stunning, I find I have to put two and two together for parents, as it slowly dawns on them that their actions are causing the improvements. When I act as their objective observer, pointing out the cause and effect, they say, 'Oooohhhh, yeah.' It's just wonderful to watch their faces. Parents get 'hooked' by their own success, and a new habit of positivity with the children is established. Everybody wins."
Tina Feigal is the resident parent coach for KARE 11 TV, the Minneapolis/St. Paul NBC affiliate. She has been featured on their KARE 11 Extra segment as "the Twin Cities' own Supernanny" (http://www.nurturedheart.com/mov.html.) Her work has been featured in Adoption Today Magazine, Experience Life Magazine, the Minneapolis Star Tribune, the St. Paul Pioneer Press, and The Phoenix, a recovery newspaper. Ms Feigal also trains parents and professionals on her own "Present Moment Parenting and Teaching" in seminars, workshops, and at conferences. In addition, she trains parent coaches at the Adler Graduate School in Richfield, MN, and privately.
"The Pocket Parent Coach, Your Two-Week Guide to a Dramatically Improved Life with Your Intense Child" by Tina Feigal, M.S., Ed., ISBN 13: 978-1-59298-171-7 • $17.95
Published by Beaver's Pond Press, Inc., Edina, MN 55439 • (952) 829-8818
http://www.BeaversPondPress.com. To Order: http://www.bookhousefulfillment.com • 800-901-3480
For further information on Tina Feigal's work or to schedule an interview, call 612-721-0217 or visit http://www.nuturedheart.com
###