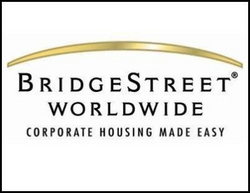 Herndon, VA (Vocus) September 14, 2007
BridgeStreet Worldwide, a leading international provider of corporate housing to business travelers, announced the signing of its latest Premier Global Alliance Partner, A+ Accommodations & Relocation, Inc., headquartered in Charlotte, NC.
The BridgeStreet Global Alliance is a network of corporate housing providers dedicated to high quality accommodations and services working collaboratively throughout the world. The program is respected among the industry for attracting top local and regional providers of corporate housing who share BridgeStreet's deep commitment to exceed client and guest expectations and to make the corporate housing experience easy. The Premier Partners exemplify the highest operating standards and undergo the most stringent due diligence process in the industry.
"We welcome A+ Accommodations to the BridgeStreet Global Alliance," said Lee Curtis, president and CEO of BridgeStreet Worldwide. "Charlotte is a fast growing east coast city with an increasing number of corporate relocations that require high quality temporary housing services. We are very excited to have such an outstanding partner in Charlotte and we are confident that our guests will receive the same superior service that they have grown to expect from BridgeStreet."
In conjunction with adding A+ Accommodations to the BridgeStreet Global Alliance, BridgeStreet Worldwide and A+ Accommodations have merged operations and will continue to operate under the A+ Accommodations name. "For our customers, this translates to a seamless guest experience exhibited through standardized services, accommodations and account management across the entire Global Alliance," stated Curtis.
A+ Accommodations & Relocation brings their decade of experience and a rock solid reputation in the Charlotte, North Carolina market to the BridgeStreet Global Alliance. "Joining the BridgeStreet Global Alliance is in direct alignment with our company's commitment to customer service excellence," said Clifford Thomas, President of A+ Accommodations.
"BridgeStreet is a highly recognized and well-respected industry leader globally and this partnership will open up a world of opportunities for A+ Accommodations in providing our clients with access to a vast network of quality temporary housing options worldwide."
BridgeStreet Worldwide is a leading international provider of corporate housing. BridgeStreet and its Global Partner Alliance offer over 15,000 corporate apartments located throughout the United States and 50 cities internationally. An award winner both in the U.S. and Europe, BridgeStreet properties meet uncompromising standards of quality, comfort and service. For more information about the company or to learn more about how BridgeStreet is Making Corporate Housing Easy, visit http://www.bridgestreet.com or call 1-800-BSTREET.
Founded in 1997 and headquartered in Charlotte, NC, A+ Accommodations & Relocation, Inc. is a leading provider of fully-furnished apartment homes serving the North and South Carolina markets. A+ Accommodations works with over 300 properties in Charlotte and surrounding markets throughout the Carolinas and assists many large corporate clients, relocation companies, real estate firms, consulting firms and others seeking accommodations for 30 days or more. For more information please visit the Company's Web site at http://www.aplusaccommodations.com.
###