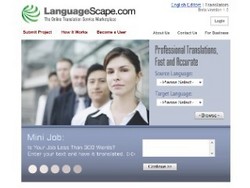 It's an honor to receive the Best Professional Services WebAward
Boston, MA (PRWEB) September 18, 2007
LanguageScape.com, the Internet's premier online language translation service marketplace, received the 2007 Web Marketing Association WebAward for Best Professional Services.
The judging panel, which included members of the media, advertising executives, top website designers, and content providers, awarded LanguageScape.com the highest score out of all nominated websites within the Professional Services category. One judge commented that, "LanguageScape.com is a very functional site that connects the user directly to the translation resource. Well done!"
"It's an honor to receive the Best Professional Services WebAward," stated David Costello, who developed LanguageScape.com. "Foreign languages have always been an impediment for international commerce and for the exchange of ideas. By providing an interactive platform for online translation services, we have begun dismantling that foreign language barrier. We appreciate the Web Marketing Association's recognition of our work."
Through LanguageScape.com, clients can access hundreds of professional translators who can convert their content into any desired language. Translators are organized within an online directory which displays past client ratings, client reviews, price discounts, credentials, and credential confirmations. LanguageScape.com provides several turnaround time windows, ranging from next-day service to one-week service. There is one standard pricing system throughout the entire LanguageScape.com marketplace, and clients can access instant quotes online by using the Cost Calculator.
To learn more about LanguageScape.com, visit http://www.languagescape.com/.
About the Web Marketing Association's WebAwards:
The Web Marketing Association was founded in 1997 to help set a high standard for Internet marketing and development of the best websites on the World Wide Web. Now in its 11th year, the WebAwards is the premier annual website award competition that names the best Web sites in 96 industries, while setting the standard of excellence for all website development. A decade's worth of judging scores defines what Internet marketing professionals should strive for in their website marketing and design efforts.
Contact:
David Costello
EditAvenue Incorporated
617-585-9540
info@languagescape.com
http://www.languagescape.com/
###