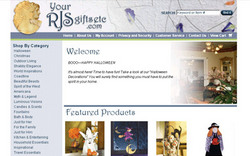 A return to the old concept of satisfying the customer's needs is of paramount importance to us
Indian Orchard, MA (PRWEB) September 17, 2007
Just in time for the fall holiday season, Your RJS Gifts, Etc. announces the grand opening of their online store. A unique gift shop offering home, lawn and garden décor, and more, the grand opening will focus on the site's wide array of unique Halloween decorations, and with winter holidays approaching, a broad selection of decorations and ornaments for Christmas and Hanukkah as well, with crosses, nativity scenes, and angels of every description.
The company was founded with the principle of customer service in mind. Since many people are still uncomfortable with online shopping, company President Ron Stager wanted to go above and beyond the service found when shopping through websites, and beyond that to surpass the customer service given even at brick and mortar department stores.
"A return to the old concept of satisfying the customer's needs is of paramount importance to us," said Stager. "The goal of this company is to offer reasonably price products with a 100% satisfaction guarantee."
Beyond the unique Halloween decorations and other holiday-specific items, year-round shoppers will find home, lawn and garden décor products for every room, front, or back yard. Your RJS Gifts, Etc. offers large and small fountains, stepping stones, lighting, candles and candleholders, wall plaques and birdhouses, as well as a large selection of wind chimes, all to beautify a home's indoors and outdoors.
Stager added, "We want you to be able to take your time, relax, and browse to your heart's content, confident that you will be satisfied with your purchase and proud to present it to the ones you love." To achieve that goal, the store is divided into special gift categories, for birthdays, anniversaries, and varying interests. The Beautiful Beasts section has displays of decorations featuring various types of animals, and the World Inspriations series contains products from distant lands and many world cultures. The company also offers a separate catalog with help for school or organizational fundraising.
For more information on lawn and garden décor options, or unique fundraising ideas, visit YourRJSGiftsEtc.com.
About Your RJS Gifts, Etc.:
Your RJS Gifts, Etc. is a new online store, focusing on unique gifts, founded by company President Ron Stager. Self-employed and running businesses for most of his life, Ron wanted to create a business with the intention of bringing joy and warmth to customers. The store is divided into special gift categories in order to make purchasing the perfect present easy and efficient.
###