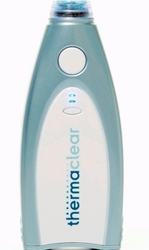 We're extremely pleased to welcome ThermaClear to the skin solutions available on Sephora.com
San Francisco, Calif. (PRWEB) September 14, 2007
Therative announced today that ThermaClear, its innovative, hand-held acne treatment device, is now available at Sephora.com, the leading specialty beauty retailer in the U.S. ThermaClear will also be featured on the weekly Sephora show on HSN in late September; further extending the device's reach to anyone who has suffered from problem skin.
The decision to add ThermaClear to Sephora's catalog of classic and emerging fragrances, cosmetics and skincare products signals a strong endorsement from the beauty authority. This partnership between ThermaClear and Sephora will bring the pimple-clearing device to the attention of millions of beauty insiders who trust Sephora to bring them quality products that satisfy their discerning tastes.
"We're extremely pleased to welcome ThermaClear to the skin solutions available on Sephora.com," said Betsy Olum, Senior Vice President of Marketing, Sephora. "As the beauty authority, we strive to offer our customers an unparalleled assortment of top-of-the-line, quality brands. We believe that our customers will embrace ThermaClear, a unique and proven acne treatment."
Affecting more than just teenagers, breakouts can be a life-long struggle for people well into their 50s. In fact, more than 50 million Americans suffer from mild-to-moderate acne (i.e., pimples.) The ThermaClear device uses a process called HEAT™ - Heat Enabled Acne Treatment. Unlike traditional topical acne treatments, ThermaClear delivers a controlled burst of heat directly to the pimple to accelerate the clearing of acne after it occurs. An FDA-reviewed clinical study proves that pimples treated with ThermaClear heal two to four times faster than those not treated with the device. Treatment time is only two seconds per pimple, and the device is safe and effective on all skin types.
"We're excited about our partnership with Sephora. They are a leader in the beauty industry with a reputation for offering new product innovations that truly work," said Peter Scocimara, CEO of Therative. "We're thrilled that Sephora has recognized ThermaClear's potential to change the way people treat pimples and maintain their skin."
ThermaClear uses proprietary Thermal Pulse Technology to deliver a controlled burst of healing thermal energy that gently penetrates the surface of the skin to neutralize the underlying bacteria that causes breakouts. It's similar to laser treatment technology dermatologists use to treat mild-to-moderate inflammatory acne. ThermaClear heals pimples without the use of over-drying medicines that can irritate skin.
ThermaClear is now available at http://www.sephora.com for $149.95. More information about ThermaClear and its proprietary Thermal Pulse Technology may be found at http://www.thermaclear.com.
About Therative:
Therative is a pioneer in developing medical products and solutions for consumers, converting complex medical treatments previously available only through professionals into safe, effective products for use by consumers. The company's initial consumer brand is ThermaClear, a line of products including a hand-held consumer medical device and set of topical solutions for the treatment of mild-to-moderate acne. Therative is headquartered in Livermore, Calif., with offices in San Francisco, Calif. For more information, please visit http://www.therative.com
About Sephora:
Sephora, the beauty authority, revolutionized the global beauty industry with its unique retail concept rooted in a powerful combination of unparalleled brand and product assortment, distinctive store design and the beauty expertise of its sales consultants. Sephora offers clients a choice of more than 200 classic and emerging beauty brands across a broad range of product categories including skincare, makeup, fragrance, bath & body, hair care, smile care and tools, as well as the company's own private label. Sephora was founded in France in 1969 and acquired by Paris-based LVMH Moet Hennessy Louis Vuitton, the world's leading luxury products group, in 1997. Sephora America operates more than 170 stores in the United States and Canada, and the world's top beauty website, Sephora.com. Sephora Europe has more than 480 stores within 11 countries and has established ten locations in China.
###