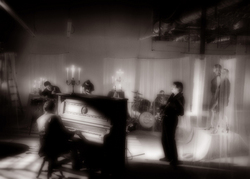 New York City, NY (PRWEB) September 18, 2007
Can you name the top ten all time best recordings of Auld Lang Syne?
Thousands of artists have performed or released renditions of the New Year's Eve staple Auld Lang Syne. Here are New York City entertainment critic Marie Lila's top 10 best Auld Lang Syne recordings:
1. Auld Lang Syne: Scott West & Sex On Sunday (2006)
Featuring Tesla guitarist Frank Hannon and Sex On Sunday's Scott West, this version of Auld Lang Syne begins with West's dynamic piano and strings swelling into Hannon's searing guitar work. West's arrangement deserves top honors for its beautiful textures, riveting crescendos, fueled by the magnificently fresh power and tone of Hannon's burning fret work. This warm arrangement brings an edgy, contemporary sophistication to the song, making it the best recording of this holiday classic and our pick for #1 Auld Lang Syne download. Sex On Sunday's 2006 "California Christmas" CD includes both this edgier version and a softer piano and strings recording. Listen / Download: Listen Download Auld Lang Syne
2. Auld Lang Syne: Guy Lombardo & His Royal Canadians (1947)
Decades of New Year's radio and television broadcasts popularized Guy Lombardo's big band arrangement of Auld Lang Syne. Lombardo has two well-known renditions of the song. The more recent was released in 1947 by Decca Records and is the best big band Auld Lang Syne recording. Lombardo's name is synonymous with New Year's Eve and he is often billed as" the only Canadian to have popularized an American tradition."
3. Auld Lang Syne: Kenneth McKellar (1995)
McKellar's smooth glistening voice and the orchestral arrangement make this the standout operatic version of Auld Lang Syne. It features excellent recording quality with stunning vocals and arrangement. This is the best recording with Auld Lang Syne lyrics.
4. Same Old Lang Syne: Dan Fogelberg (1981)
Fogelberg's Same Old Lang Syne is not the traditional version, but it ends with a beautiful saxophone solo of the traditional Auld Lang Syne melody. This song features a compelling modern day story about meeting one's old lover in a grocery store. Over the years, it has become a holiday radio favorite.
5. Auld Lang Syne: Bing Crosby (1949)
How can you not love the smooth, melodic voice of one of the all-time greatest crooner singing one of the world's most famous songs? There's a reason Crosby got a Grammy award for singing holiday music in 1947. His buttery voice melts through every word and note making it one of the favorite New Year's Eve downloads.
6. Auld Lang Syne: Ronnie Browne (1999)
Linn Records recording of Auld Lang Syne by Ronnie Brown is the best Scot-influenced interpretation. This recording is part of a collection of songs written by Scottish poet Robert Burns that was produced by Dr. Fred Freeman. This simple arrangement showcases The Corries famous lead singer and a traditional Scottish arrangement of the holiday classic.
7. Auld Lang Syne: The Beach Boys (1965)
The Beach Boys included a harmonized a-capella version of Auld Lang Syne on their 1965 Christmas album. This version has more appeal than the band's other version with the voice over that buries those amazing Beach Boy harmonies. This is a great a-capella recording of Auld Lang Syne.
8. Auld Lang Syne: Kenny G (2002)
Kenny G's millennium mix includes an audio collage of historic political and entertainment tidbits from the 20th Century. Walter Afanasieff co-produced this recording and Dave Foxx & Lou Simon produced and arranged the audio collage portion.
9. Auld Lang Syne: Jimi Hendrix (Recorded LIVE December 31, 1969)
Recorded at the opening of Hendrix' second set at the Fillmore East on December 31, 1969 to January 1, 1970, this version does not reach Hendrix' dynamic "Star Spangled Banner" in intensity, dynamics or recording quality, but is still a noteworthy rendition. The energy of this version does not measured up to Hendrix' other famous performances.
10. Auld Lang Syne: The Highland Pipers (1998)
This sweet, instrumental recording features a soft Scottish flute playing the melody line, not bagpipes. This is the most laid back of the top ten and is well suited for a romantic-candle-lit New Years evening for two.
Maria Lila
Entertainment Critic
New York City
Programing directors, television show and radio show producers may contact George Goldstein or Carric Durran to have MP-3's of Auld Lang Syne emailed to them.
TOP 10 BEST AULD LANG SYNE RECORDINGS: 1. Scott West (2006), 2. Guy Lombardo (1947), 3. Kenneth McKellar (1995), 4. Dan Fogelberg (1981), 5. Bing Crosby (1949), 6. Ronnie Browne (1999), 7. The Beach Boys (1965), 8. Kenny G (2002), 9. Jimi Hendrix (1969), 10. The Highland Pipers (1998)
Auld Lang Syne (Robert Burns)
"Should auld acquaintance be forgot,
and never brought to mind ?
Should auld acquaintance be forgot,
For auld lang syne, my dear,
For auld lang syne,
We'll tak a cup o' kindness yet,
For auld lang syne."
###