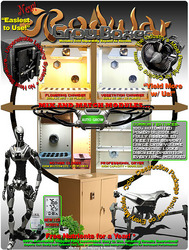 Ft. Lauderdale, FL (PRWEB) September 16, 2007
Homegrown Hydroponics (http://www.homegrown-hydroponics.com) of Ft. Lauderdale, Florida, is the leader in self contained hydroponic systems, called grow boxes. They have recently unveiled a new product line called Modular Grow Boxes, which will revolutionize the industry. A grow box is a complete system for growing plants in an ideal, computer controlled environment; engineered specifically for rapid plant growth.
These units will typically include a powerful lighting system to simulate the sun, a maintenance free hydroponic system to provide the plant's roots with water, oxygen and nutrients, as well as intake and exhaust fans, to keep fresh air moving around the plants leaves -- and keep them cool. Deluxe systems also include co2 injection to increase the plants growth rate by 40%, as well as air conditioning for keeping the plants cool, and water chillers to keep the roots cool, fresh and healthy.
The beauty of these hydroponic grow boxes is that virtually any space can be turned into a fully functional garden. Each grow box is essentially a module designed for a specific stage of growing. Generally those stages are the seedling and clone stage, the vegetative or foliage stage, and the flowering stage, where fruits and flowers are developed.
The idea behind large frequent yields in commercial gardens, is to have plants in every stage of growth -- so that they can be constantly rotated and harvested with no down time. As soon as you harvest your flowering plants, the plants in the vegetative chamber can be moved into flowering chamber to flower, new clones can be made from mothers in the clone chamber, and a new generation of vegetating plants can begin growing in the vegetative chamber; waiting to be flowered themselves. The Modular Grow Boxes Series boasts a specific module for each phase, allowing plants to reach their potential in record time.
With Homegrown Hydroponics Modular Grow Box Seriess, savvy gardeners can grow any plant easily, all year long, no matter the season or temperature outdoors. A garden can be expanded, or added upon as needed, to increase grow capacity, or to add features. When more space is needed for even more plants, additional garden modules can be added to keep up with demand. These hydroponic systems are extremely versatile and easy to use, almost maintenance free and totally automated.
Homegrown Hydroponics is bringing the joy of gardening indoors, with their expandable, Modular Grow box series, featuring state of the art hydroponic systems, air conditioning, and co2 for vigorous plant growth. For more information on these grow boxes, and others, please visit Homegrown Hydroponics web site at http://www.homegrown-hydroponics.com/mogrca.html
# # #