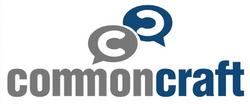 If you still can't understand a concept after Lee LeFever has explained it, cancel your internet service and go outside and play in the sandbox.
Seattle, WA (PRWEB) September 17, 2007
It started as an experiment in April of this year. Lee and Sachi LeFever created The Common Craft Show to help people understand popular social media tools like RSS, wikis, and social bookmarking "in plain English." These short online videos, in a unique paper-and-whiteboard format they call "Paperworks", quickly attracted the attention of bloggers, as well as innovative businesses like Vocus Inc, a leader in public relations management software, and Common Craft's first client.
As Bill Wagner, chief marketing officer of Vocus, Inc. describes: "It is an ongoing challenge for any business to effectively communicate all the benefits of the company to those unfamiliar with the brand. What attracted us to Common Craft was their ability to take the sophisticated technologies behind our PRWeb service and explain them in a simple, entertaining manner that we knew our target audience would instantly understand and appreciate."
Common Craft's unique style seems to resonate with both technical and non-technical people. One comment left on YouTube, one of multiple services where Common Craft shares their videos states, "If you still can't understand a concept after Lee LeFever has explained it, cancel your internet service and go outside and play in the sandbox."
Producing videos has recently become a full time job for Common Craft, who has a number of client productions in the queue. "It's been a wonderful evolution for us and it couldn't have happened without bloggers and sites like You Tube that enabled our videos to reach new people and potential clients." says Lee LeFever, Principal of Common Craft, "We believe there is an emerging market for better explanations and we're building our company around serving that market with our videos. That's why PRWeb was perfect for our first project - we're both focused on the ways in which the Web and social media are changing how we communicate."
Over the next year, Common Craft will continue to produce original videos for the The Common Craft Show along with custom videos under Common Craft Productions.
About Common Craft
Common Craft was founded in 2003 as a consulting company, working with companies like Microsoft, March of Dimes and Geffen Records on online community strategy. While community is still a big part of Common Craft's focus, the husband and wife team are currently working full time to produce explanatory videos for commercial clients and The Common Craft Show. For more information and access to Common Craft's videos, visit http://www.commoncraft.com or call 206.323.1041.
About Vocus, Inc.
Vocus, Inc. (NASDAQ: VOCS) is a leading provider of on-demand software for public relations management. Their web-based software suite helps organizations of all sizes to fundamentally change the way they communicate with both the media and the public, optimizing their public relations and increasing their ability to measure its impact. Vocus' on-demand software addresses the critical functions of public relations including media relations, news distribution and news monitoring. It delivers its solutions over the Internet using a secure, scalable application and system architecture, which allows its customers to eliminate expensive up-front hardware and software costs and to quickly deploy and adopt our on-demand software. Vocus is used by more than 2,000 organizations worldwide and is available in five languages. Vocus is based in Lanham, MD with offices in North America, Europe and Asia. For more information please visit http://www.vocus.com or call 800.345.5572.
# # #