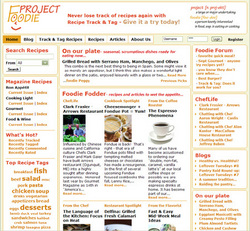 At Project Foodie we understand the needs of the foodie lifestyle. That's why we provide recipe organization and personalization across multiple publishers. The launch of the Project Foodie website only scratches the surface of the features we are planning. We will be adding more publications, cookbooks, and other media to quench the thirst of web savvy foodies
San Jose, CA (PRWEB) September 17, 2007
Project Foodie, Inc. has launched their new web destination, Project Foodie (http://www.projectfoodie.com). The website satisfies the cravings of foodies - people with a keen interest in food, cooking, and eating - by infusing technology solutions with a passion for food. Project Foodie serves the foodie lifestyle a tasty blend of recipes, food related articles and chef interactions mixed with the freedom to easily keep track of and personalize recipes from multiple cooking publications in one personalized recipe box all located on one web destination - http://www.projectfoodie.com.
The age old question "What's for dinner?" has gotten more complicated with the enormous number of print and on-line recipe sources available today. Project Foodie solves this problem by helping foodies find the recipes they crave and by letting them hold onto and organize those recipes according to their own personal needs. "People don't just read one magazine or buy one cookbook. That's why Project Foodie is publisher independent. We make it easy for foodies to find and organize recipes from multiple publishers all on one website." says Chief Foodie, Pam Thuman-Commike. Project Foodie lets people easily keep track of recipes from a constantly growing set of top cooking magazines including Cooking Light, Gourmet, Bon Appétit, and Food & Wine all in one personalized recipe box. Project Foodie goes beyond a simple recipe box by allowing each user to categorize and personalize their recipes as they use them, see them, taste them and eat them.
The foodie lifestyle also craves food knowledge. Project Foodie provides an intriguing and growing collection of food related articles from food specialists. The Project Foodie "From the..." series presents articles from specialists including cheesemongers, butchers, fishmongers, farmers, nutritionists, coffee roasters, vintners, and more. Restaurant chefs, personal chefs, cookbook authors, and other food professionals round out the daily article offerings on Project Foodie. Project Foodie also introduces foodies to cookbooks, restaurants, wineries, and bed & breakfasts through their recipes and images.
Chefs are an important component of the foodie lifestyle; through their creations foodies are constantly evolving. Project Foodie offers foodies many interactions with chefs. Chef interviews explore the life of a chef in the "ChefLife" series. Chef contributed recipes showcase the culinary creations of chefs throughout the country and chef contributed articles explore the interests and knowledge of chefs. Project Foodie provides an entertaining and knowledge filled glimpse into the chef's life both in the kitchen and outside the kitchen.
"At Project Foodie we understand the needs of the foodie lifestyle. That's why we provide recipe organization and personalization across multiple publishers. The launch of the Project Foodie website only scratches the surface of the features we are planning. We will be adding more publications, cookbooks, and other media to quench the thirst of web savvy foodies," says Chief Foodie, Pam Thuman-Commike.
###