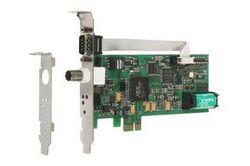 Bad Pyrmont, Germany (PRWEB) September 18, 2007
The TCR511PEX is the newest PCI Express product from Meinberg and accompanies the already available PEX511, which is a DCF77 receiver for the PCI Express bus.
The IRIG receiver board TCR511PEX understands a number of modulated (AM) and DC Level Shift (DCLS) time code signals and codes: IRIG A (A000, A002, A003, A130, A132, A133), IRIG B (B000, B002, B003, B122, B123), IEEE1344, AFNOR NFS 87-500
The TCR511PEX can be deployed in applications where more than one computers require a highly accurate time base. If the accuracy demands cannot be satisfied by using the Network Time Protocol (NTP) or the computers in question are not connected to any network, IRIG provides a practical solution down to the microsecond level. An IRIG generating device (e.g. a Meinberg GPS receiver with IRIG output ports) is sufficient for providing time synchronization to a group of IRIG workstations or servers. The successful TCR511PCI can be deployed where a 3.3V or 5V PCI(-X) slot has to be used instead of PCIe. All Meinberg devices for the PCI Express bus can be installed in 1x (single lane) lane slots and the TCR511PEX and the PEX511 DCF77 receiver both are designed to be mounted in low profile enclosures or in standard ATX and BTX computer cases (the boards come with brackets for both environments).
The USB5131 receives the German long wave radio signal DCF77 and is connected to the Universal Serial Bus (USB) of the host PC and requires no extra power supply (bus powered). It's integrated antenna makes it easy to use in the field, for example in laptop-based data acquisition applications. An external antenna can be added to provide a better reception in problematic environments.
Both the TCR511PEX and the USB5131 are supported by the standard Meinberg driver -- as all Meinberg Bus Level devices with ISA, PCI, PCI-X, PCI Express or USB interfaces. The Meinberg "One Drivers Fits All" policy simplifies installation and maintenance of your synchronized computer equipment and allows you to easily integrate highly accurate time into your own applications by maintaining full API compatibility between the Bus Level Products. If you used the API functions to get the time from a PCI device, you can instantly use the PCI Express or USB devices -- no need to change a single line of code.
While the TCR511PEX is already supported by the latest version of the Meinberg driver (free download from the Meinberg website), the USB5131 is currently supported on the Windows platform, the Meinberg software development team is currently working on Linux support.
###