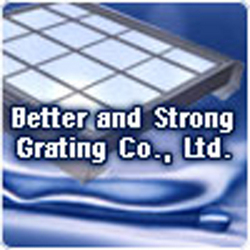 great quality, prompt delivery, professional design and competitive price
(PRWEB) September 26, 2007
With its essential business concept of "great quality, prompt delivery, professional design and competitive price," Better and Strong has built a good reputation as a leading manufacturer in grating of Taiwan. It has worked with construction companies, transportation companies and factories such as Taiwan Rapid Transit Corporation and Kaohsiung Rapid Transit Corporation, which are important transportation systems in Taiwan. In order to serve more overseas customers, Better and Strong is focused on making a great start in the Middle East market this year.
For effective production, Better and Strong owns two ISO9001 certificated factories with a floor totaling over ten thousand square meters of space, one for material support and the other focused on products processing. Its processing factory is well-equipped with an electro-forge machine, it carries out steel welding to produce a variety of grating specifications in accordance with the standard of Metal Bar Grating division of the National Association of Architectural Metal Manufacturers (NAAMM).
Better and Strong asserts that the company does not compromise when it comes to quality, therefore, it takes advantage of its own material factory and also ensures half-finished steel is quality guaranteed by reliable suppliers such as China Steel Company, the largest steel manufacturer in Taiwan.
To service customers better, Better and Strong not only provides stainless grating, but also galvanized grating at competitive price to cater to more customers' needs. All products have been arranged to pass ASTM, BS and AS tests. Their galvanized products have ventilated, explosion-proof, anti-corrosive and anti-slippery characters with no blister, crack, pinhole and scrape appearing on surface. In addition, the determination of zinc content and thickness of grating also reaches international standards.
Better and Strong grating is ideal for catwalks, conveyor and access walkways, handrails, fences and platforms, as well as stair treads on process plants. Better and Strong gratings are lightweight, self-cleaning, easy-to-install, have a strong loading-bearing capacity, show no deformation and allow the passage of air and light. Grating types of bearing bars include flat type, serrated type, I bar and press-locked steel bar grating. Their spacing could also be custom designed and manufactured depending on customers' requirements.
In order to reduce the risk of accidents, especially in wet weather or in plants with high condensation, Better and Strong also provides non-slip strips and nosing designs for different needs.
Compared to other grating suppliers doing semi-finished products and final processing, Better and Strong is able to do steel coil cutting using a CNC machine, which brings more competitive prices to customers. It also achieves higher customer satisfaction for a variety of grating specifications, such as the flat steel with 40 x 3 mm.
Better and Strong specially provides a big chunk of black steel sheet grating without surface treatments for customers doing the cutting and processing on their own.
Another high-value product of Better and Strong is their trench and drainage pit cover. It has been widely used in public construction, mass transportation, streets and playgrounds with frame supports (BT2) and non-frame (BT1) models.
Always looking out for customers' best interests, Better and Strong proposes the most appropriate flooring solution for customers' application requirements. Moreover, fastening components such as setting screws and setting plates can be fully supplied at a good price to reduce installation cost. They also offer chain lockers for drainage cover to protect from stealing.
Better and Strong Prompt Delivery
According to its commitment of prompt delivery, Better and Strong guarantees good delivery within two weeks from material purchase, to grating galvanizing, and final goods delivery, even on special customer's orders.
###