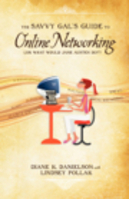 is available in all of the traditional online bookstores, like Amazon.com and Barnes & Noble.
Boston, MA (PRWEB) September 19, 2007
Savvy networking, and using social networking tools and blogging to advance your career is something Diane K. Danielson knows something about. Diane is CEO and founder of the Downtown Women's Club, blogger for http://www.womensDISH.com, the Boston Globe and Entrepreneur magazine. She, and the co-author Lindsey Pollak demonstrate in their new book that the possibilities for online networking are "virtually limitless."
In the exclusive Total Picture Radio interview, Diane told Peter Clayton, "I'm shocked at the number of professional women starting businesses whose only Internet strategy is to have a web site. There is so much more you can do to market and promote yourself online, online networking not only opens doors to new business relationships, but it also helps us manage the relationships we already have in an efficient manner that fits our 'always on the go' lifestyles." Danielson added, "and these are women actively involved in online networking women's business groups."
Jane Austen... "is all about networking and manners, proper etiquette - and the biggest component to doing great networking is having great manners." - Diane Danielson
Diane and Lindsey have taken another unusual step for successful, published authors: They've chosen to use a POD (publish on demand) approach to their new book. "With a built-in audience of over 10,000 professional members of Downtown Women's Clubs across the country, it would not have been difficult to find a traditional publisher for the book," Danielson said. "But Book Locker is terrific to work with, and "The Savvy Gal's Guide to Online Networking" is available in all of the traditional online bookstores, like Amazon.com and Barnes & Noble." An interesting fact about Jane Austen that Diane discovered; she self-published as well!
"The Savvy Gal's Guide to Online Networking (Or What Would Jane Austen Do?) covers:

E-mail etiquette tips and tactics.
Ideas for improving your online presence.
Why you need to pay attention to social networking sites.
Everything you ever wanted to know about networking through email, blogs, bulletin boards, and online networks.
Clayton asked the networking expert, "is blogging a good way to promote a business? As much of a proponent of online networking as Danielson is, she cautions, "there still no substitute for face-to-face contact. That's why the Downtown Women's Clubs use both in-person networking events, with web sites to support those activities… Even for those women who consider themselves strong networkers, mastering online networking can open new horizons, and new opportunities."
About the Downtown Womens Club:
Founded as a networking organization in Boston by a group of energetic and enthusiastic young professionals in 1998, the Downtown Women's Club (DWC) has evolved into an online social network and in-person community designed for smart and sophisticated businesswomen on the go. Our mission is: to empower women through access to information and opportunities for collaboration. With our expanding club system and online services, no matter where you work, play, or live, you can join the DWC and interact with dynamic corporate executives and entrepreneurs from a variety of industries.
About Diane K. Danielson:
Diane K. Danielson is the CEO of DowntownWomensClub.com a career website and social network for businesswomen and the co-author of Table Talk: The Savvy Girl's Alternative to Networking (2003), and the Savvy Gal's Guide to Online Networking (or What Would Jane Austen Do?). When not "dishing" about women in business or the hazards of being a single mom, she's generally writing or speaking on the same or similar topics.
About Total Picture Radio:
Total Picture Radio is a career empowerment service for knowledge workers. We are committed to sharing ideas and commentary from thought leaders in business, strategy, marketing, career management, media, sustainability, and the Internet. TPR podcasts actionable information for high-performance careerists - and business leaders creating talent-focused organizations. Our in-depth interviews include best-selling authors, senior executives, visionaries, leadership coaches, and entrepreneurs. Total Picture Radio is "The Voice of Career Leadership." Sponsorship opportunities are available for podcasts and events.
###