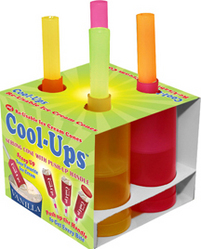 Carrollton, TX (PRWEB) September 19, 2007
Jokari is adding to its product offering a new innovative product called Cool-UpsTM. Cool-Ups are re-usable ice cream serving cones with a built in push-up handle that do double duty as an ice cream scoop and a serving vessel. This handy little contraption is mess-free and provides welcome refreshment on any day. They are easy to use, easy to clean and come in four bright fun colors. Cool-Ups are also designed with a protective cap to store ice cream in the Cool-Up in the freezer to serve later. They are available in packs of 4 for $4.99.
The novel design of this product has been entered into the 2008 Housewares Annual Design Awards in the Kitchen Hand Tools category. Winners to be announced at the end of this year.
Founded in 1974, Jokari/US, Inc is the leader in creating innovative products for the home and beyond. The company offers a wide range of patented products designed to simplify everyday tasks, create storage solutions and extend the life of common household products such as; carbonated beverages, wine, and more.
For more information, press only:
Stephanie Smith
972-478-4908
ssmith(at)jokari.com
For more information on Jokari Products: Jokari
Jokari is a registered trademark of Jokari.US, Inc - All Rights Reserved
###