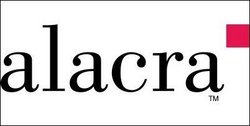 London (PRWEB) September 17, 2007 -
– Alacra, Inc. a leading provider of online business information solutions, announced today that it has signed an Alliance Agreement with CounterpartyLink Ltd., a provider of global client, counterparty and issuer legal entity reference data.
Alacra's Concordance and Compliance products enable clients to seamlessly search and retrieve company, security and industry reference data from multiple providers through one single interface and request process. Through this alliance agreement, Alacra's Concordance and Compliance customers will have access to CounterpartyLink's full list of maintained reference data. This data is collected from sources, and maintained to standards, required in today's regulatory compliance environment. This data specifically enables subscribers to collect data required for Know your Customer (KYC) processes for any registered entity in the world, with the knowledge that all information delivered has a link back to the source it came from. These are typically national and regional company registry authorities, regulators and stock exchanges.
"Our alliance with CounterpartyLink further strengthens Alacra's Concordance and Compliance services by enabling the many other data sets that we carry to be seamlessly linked to a core legal entity record – the characteristics of which are specifically shaped by regulatory requirements under MiFID, Basel II and other initiatives in the increasingly regulated market in which financial services operate" said Steve Goldstein, CEO at Alacra.
Compliance with regulatory initiatives such as MiFID and Basel II require financial institutions to properly categorize and assess the operational risk from clients and financial counterparties. Meanwhile, KYC requirements under the Patriot Act, Bank Secrecy Act and FSA have placed new demands on financial institutions to prevent money laundering and terrorist financing. To meet these requirements, financial institutions must bring together data from disparate internal and external databases, to gain a comprehensive understanding of their counterparties.
"Alacra's ability to link our data to the wealth of other related content that it carries adds another dimension to CounterpartyLink's data, and significantly enhances the ability for clients to retrieve, use and also integrate such content into their own applications. This brings significant efficiencies with regards to cross linking different data sets to CounterpartyLink's data, and also strengthens both parties' offerings in some specific areas of an organisation's operations, such as in the account opening process" said Christoph Lammersdorf, CEO of CounterpartyLink.
For more information about Alacra, visit Alacra's website at http://www.alacra.com or contact Alacra at +1.212.363.9620
About CounterpartyLink – http://www.counterpartylink.com
CounterpartyLink, Ltd. provides global legal entity data, collected and maintained with processes designed to be consistent with the stringent standards driven by today's risk management and regulatory compliance requirements. Detailed information on legal entities including corporations, governments and funds is collected in centres around the world, using primary sources and registration documents, with all data supported by an audit trail back to the source. CounterpartyLink employs rigorous, documented procedures to collect and verify all data and continually updates the information for corporate actions and other events.
About Alacra, Inc.
Alacra creates sophisticated online technology and services to help clients find, package and present business information. Financial institutions, professional service firms and other corporations have long used the same content sets to support clients, research deals and investigate market opportunities. The Alacra mission is to package this content and deliver it in a format that best meets each organization's precise needs.
Worldwide, more than 600 investment and commercial banks, management consulting firms, law firms, and other corporations, representing 50,000 end users worldwide, use Alacra to effectively find and deploy business information in their daily workflow. For more information, visit their website at http://www.alacra.com.
###