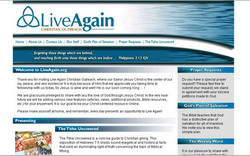 The book offers sound biblical facts that are scripturally, historically, exegetically based
West Bloomfield, MI (PRWEB) September 18, 2007
Live Again Christian Outreach, Inc. announces the launch of their website, LiveAgain.org, as well as the impending release of The Tithe Uncovered, written by Live Again founder Elder Dirk Evans, ordained minister. The Tithe Uncovered is a concise guide to Christian giving, expanding upon scriptural examples to contrast and compare biblical tithing with the tithing mandated by a large number of churches in today's Christian community.
The author of the book, Elder Dirk Evans, has been an ordained minister since 1995, and has served various outreach ministries. For over ten years, Elder Evans has committed himself to independent study of the Bible. His recent findings on biblical tithing are illustrated in The Tithe Uncovered, which reveals that the ordinance of paying tithes was according to the Mosaic Law that commanded the Levitical Priesthood to take the tithes from the Jews, and not born again believers of Jesus Christ in the New Covenant. Elder Evans contends that current Christian churches that require tithes of their congregations are going against the liberty of the New Testament by going back to the Old Testament for justification.
"The book offers sound biblical facts that are scripturally, historically, exegetically based," says Evans. "The Book of Hebrews, Chapter 7, Verse 5, shows us the concrete truth concerning the commandment to pay tithes." This is the main example of biblical tithing expanded upon in the book, which is set for release later this fall. The price of the book will be $12.95. If the book is purchased in the pre-release period, shipping and handling will be not included in the purchase price.
The Tithe Uncovered is available at Live Again's newly launched website. The site will also offer prayer requests and a weekly newsletter called The Weekly Word. The majority of Live Again's staff has over twenty years of outreach experience, most recently having coordinated efforts in Detroit for displaced victims of the devastation caused by Hurricane Katrina.
To learn more about The Tithe Uncovered's findings on tithing in the bible, make a prayer request, inquire into outreach programs or view God's Plan of Salvation, visit LiveAgain.org.
About Live Again Christian Outreach, Inc.:
Live Again Christian Outreach, Inc. was organized in the state of Michigan in February of 2006. During the time of independent study, founder Elder Dirk Evans was co-commissioned in conjunction with the Citadel of Praise Church, Straight Gate Church, and various community organizations to respond to the care of displaced survivors of Hurricane Katrina in the Detroit metropolitan area. Live Again Christian Outreach's mission is to establish, rebuild, and empower families, communities and institutions with solid Christian values and integrity, through the transformative, life-changing truth of the Holy Bible.
###