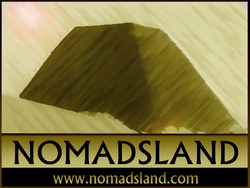 Whether it's illegal immigration, gay marriage, the crisis in Darfur or the tragedy of Tibet, NomadsLand seeks to provide new opportunities for international filmmakers and writers by amplifying unique voices and promoting their works
Washington, D.C. (PRWEB) September 19, 2007
NomadsLand.com - the online destination for social issue media - today announced its foray into citizen journalism with the addition of the NomadsLand Post (http://www.nomadsland.com/blog).
Building upon its base as an open source destination for international documentaries and video news features, NomadsLand is unveiling a community blog that splits ad revenues with all authors. Anyone from professional journalists to amateur bloggers can post articles or opinion pieces and receive advertising royalties from the text ads adjacent to their articles - in perpetuity.
"Unlike current journalism models, NomadsLand 'tags' text and video advertising to films and articles and 'attaches' them to individual authors," says NomadsLand founder Davin Hutchins. "Fifty percent of the revenue we earn from Google text ads is channeled back to the post's individual author. Now, professional freelance journalists or talented bloggers can be paid months or years after their article is published as long as it is still attracting traffic. Those with the keenest insights and enduring observations will profit most."
NomadsLand (http://www.nomadsland.com) has been described as "YouTube for smart people." To date the site has attracted hundreds of filmmakers, video producers, citizen journalists, travel writers and bloggers joining forces to build a single destination for news features, documentaries, travelogues, video reports and essays which creatively explore pressing social and political issues.
"Whether it's illegal immigration, gay marriage, the crisis in Darfur or the tragedy of Tibet, NomadsLand seeks to provide new opportunities for international filmmakers and writers by amplifying unique voices and promoting their works," says Hutchins. "A lot of talented artists don't want to see their important films next to videos of cats flushing toilets. So we created a home for them. We're also an unusual startup in that we use "distributed work force of nomads" to share programming, editing and moderating duties and keep our overheads low."
Many of the documentary films currently featured on NomadsLand have debuted at prominent international film festivals, including International Documentary Festival Amsterdam, Tribeca Film Festival, Bangkok International Film Festival, Dubai International Film Festival, HotDocs, AFI Fest and the OneWorld Human Rights Film Festival. Films include From Dust, Three Friends, Ibogaine, New York Drag, Bushmen of the Kalahari, Replay Revenge, Lesbian Grandmothers from Mars and The Art of Flight.
Filmmakers and writers who register at NomadsLand can create professional profiles for highlighting career milestones and showcasing their own works. Registered users can also search an expanding international database of journalists and video professionals to find partners to collaborate with.
To date, NomadsLand has logged hundreds of paid downloads and tens of thousands of video streams. NomadsLand shares half of its download and advertising revenue with individual filmmakers and distributors.
"After only a few months of closed testing, we're really thrilled by the initial response," says Hutchins. "We've received dozens of fantastic documentaries and video reports. Hundreds of people are signing up for our social network. Now we hope the NomadsLand Post can replicate our strides in video with the written word."
In coming months, the site will add features including production tutorials, Wikis, community forums and a stock photo library designed to help established filmmakers and photographers produce social issue media for the Internet.
NomadsLand hopes to soon replicate its success in documentaries through new channels features narrative features, travelogues and animated satire. NomadsLand current allies include Witness.org, Channel 4's FourDocs, Busboys and Poets, the Pulitzer Center on Crisis Reporting and Docs in Progress.
Media contact: NomadsLand Press Relations, press [at] nomadsland.com, (202) 470-0875.
###