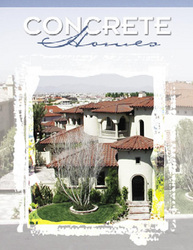 They are the buyers who can benefit the most from savings on energy bills and insurance premiums …and they are the ones who can least afford the cost of damage from natural disasters. So concrete makes a lot of sense in that market
Yucaipa, CA (PRWEB) September 19, 2007
The popularity of concrete homes continues to grow more and more as builders and homeowners begin to understand the many advantages these structures have to offer. From the outside a concrete home looks like any other home, the benefits of an energy efficient home come from within the structure itself.
The Concrete Network, the largest and most comprehensive source for concrete information on the web, offers a free downloadable catalog for homeowners, designers, and builders wanting to know more about concrete homes and all they have to offer. The catalog Concrete Homes provides an educational overview of what can be expected when building with concrete, including how concrete homes are built, choosing materials, designs options, costs and overall benefits.
Buying a home is typically the biggest investment people ever make, and today concrete homes are making up over 15 percent of the new homes that are built. If that home is constructed with concrete walls, their investment is naturally protected from the structural damage that can be caused by the effects of nature and natural disasters.
"They are the buyers who can benefit the most from savings on energy bills and insurance premiums …and they are the ones who can least afford the cost of damage from natural disasters. So concrete makes a lot of sense in that market," explains Jon Rufty of Rufty Homes in North Carolina.
Concrete homes are credited with their long-lasting durability, energy efficiency, limitless design possibilities, and their ability to offer shelter through Mother Nature's often devastating disasters. Find additional detailed information about all aspects of concrete homes on The Concrete Network Web site.
Established in 1999, The Concrete Network's purpose is to educate consumers, builders, and contractors on popular decorative techniques and applications. These include stamped concrete, stained concrete floors, concrete countertops, polished concrete, and much more. In July 2007 The Concrete Network Website had over 1.3 million visitors researching decorative concrete.
The site excels at connecting buyers with local contractors in their area through its Find-A-Contractor service. The service provides visitors with a list of decorative concrete contractors throughout the U.S. and Canada, and is fully searchable by 23 types of decorative concrete work and 202 regional areas throughout North America.
Attached photos courtesy of Reward Wall Systems.
###