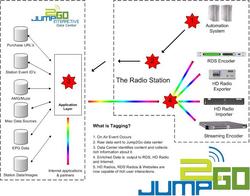 I have great respect for the work that Allen Hartle has done over the course of many years to bring radio into the digital age
Bellevue, WA (PRWEB) September 18, 2007
On the heels of last week's announcement of the "Go Commerce" service to support Apple's Radio Tagging Feature for HD RadioTM & RDS equipped radio stations, Jump2Go, Inc., a technology provider of advanced data applications to radio broadcasters and consumer electronics manufacturers, today announced that it is turning to the assistance of industry expert Martin Hadfield to lead the project management and nationwide technical deployment of the Go Commerce service which enables new revenue opportunities for stations through HD Radio Tagging, RDS radio tagging and iTunes fulfillment directly from their radio station websites.
After 17 years as VP of Technology at Entercom Communications Corp. where he guided the Company's technical growth from the original 11-station group to its present 111 stations, Hadfield recently stepped down to launch his own broadcast industry consultancy practice. One of Hadfield's first substantial clients is Jump2Go.
"Marty's enthusiasm, intelligence and impressive track record in the radio industry were the reasons why I decided to turn to him to lead the deployment of our Go Commerce service," stated Allen Hartle, founder and CTO of Jump2Go. "Anyone who has designed and built dozens of studio facilities and high-power AM & FM transmitter sites, designed microwave STL systems, and was directly involved in 75 HD Radio FM installations, makes him more than just qualified to manage and deploy our new service. It makes him the obvious and only choice."
"I have great respect for the work that Allen Hartle has done over the course of many years to bring radio into the digital age," stated Hadfield. "I'm particularly excited about the Go Commerce service, and its ability to merge radio station listening with iPod usage, to the benefit of both the consumer and radio stations alike. I'm therefore thrilled to be chosen to lead the technical deployment of the Go Commerce service nationwide for Jump2Go."
For the past six years, Hadfield has been named a Radio Ink "Most Admired Engineer" in radio. He has served as one of only two broadcast representatives on the FCC President's Katrina Panel, which developed "best practices" from the lessons learned in the post-Katrina/Rita hurricane period. He has also served as the Co-chairman of the Radio Broadcast Data System (RBDS) subcommittee of the National Radio Systems Committee, where he worked with his co-chairman to develop and promote the Artist / Title text display technology which is now available in most car radios.
About Jump2Go, Inc.
Jump2Go, Inc. is a Bellevue, WA based technology company providing advanced data applications to radio broadcasters and consumer electronics manufacturers. The company was founded by industry expert Allen Hartle, who was a chief engineer in the Seattle radio market from 1979 - 1993. Since 1993, Hartle has developed numerous technologies such as the "Now Playing" feature for Radio Station Digital Billboards, state-of-the-art Digital Signal Processing (DSP) based Radio Data System (RDS) encoders, and The Radio Experience product line now owned by Broadcast Electronics. In addition, Hartle has been credited with sparking the resurgence of RDS in 2002/2003. All of these accomplishments have led to the development of the "Go Commerce" tagging service for device manufacturers and HD Radio & RDS equipped radio stations, which enables them to monetize their programming. More information can be found at: http://www.jump2go.com.
HD Radio is a proprietary trademark of iBiquity Digital Corp. Apple, iTunes and iPod are registered trademarks of Apple Corporation.
###