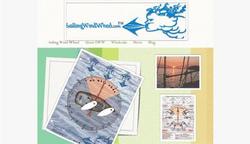 Saint Petersburg, FL (PRWEB) September 18, 2007
Hobbies traditionally provide a great opportunity to meet new people with similar interests and help keep the mind and body active. However, the majority of people find that starting a new hobby can be both time consuming and expensive, especially in the sport of sailing. Learning the points of sail and proper sail trim can be difficult for many. To promote the ease of sailing, Captain Josie Longo announces a way to make learning the wind easy and fun through the use of the new and innovative Sailing Wind Wheel (http://sailingwindwheel.com)].
The Sailing Wind Wheel is a new, interactive way to learn how to sail. This unique tool teaches users the fundamentals of the relationship between the boat and the wind. The boat is strategically placed on a clear disc with the port and starboard clearly marked with red and green. The boat rotates 360 degrees through the wind, while the sails adjust independently to help users visualize how the sails need to look and move on various Points-of-Sail.
This interactive learning tool is not only easy to use, but is also effective. By providing the Points-of-Sail in clock reference and degrees of angel, people are able to grasp sailing fundamentals quickly and easily. Conveniently placed on the back of the Sailing Wind Wheel are detailed explanations of the Points-of-Sail, proper sail trim, words of the wind, Helmsman commands and proper crew responses.
Creator of the Sailing Wind Wheel, Captain Josie Longo, explains, "Learning to sail is now as easy as pie with the Sailing Wind Wheel. Anyone, who has found learning how to sail difficult, will be amazed at how easy it is to learn how to sail with the Sailing Wind Wheel. This is a fantastic, interactive way for people to learn their Points-of-Sail. "
Captain Josie continues, "This wheel makes it so easy to understand sailing that it takes the fear out of learning. The Sailing Wind Wheel is the perfect teaching tool for all sailing schools and sailing organizations. It is designed for both young people and adults to learn with ease."
To promote the love of sailing, special business rates are available for orders of the Sailing Wind Wheel that are over ten. In addition, companion booklets for both individuals and instructors are available to answer any tough questions.
To learn more about the Sailing Wind Wheel which features proper Points-of-Sail, sail trim, sailing commands and responses, please visit SailingWindWheel.com.
About Captain Josie Longo:
Captain Josie Longo is the owner of Adventure Cruising & Sailing School, a Florida American Sailing Association (ASA) Sailing School for women and couples. She has been teaching sailing since 2000. Captain Josie teaches ASA Certification through Advanced Coastal Cruising. She is known for her unique ways of teaching the wind and for working with one couple at a time. Her most recent innovative idea is the Sailing Wind Wheel.
# # #