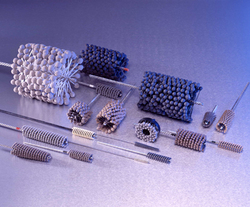 There are over-the-counter hones but most are 120-grit silicon carbide, and that won't work for everything
Los Angeles, CA (PRWEB) September 18, 2007
Brush Research Manufacturing, an industrial brush maker in Los Angeles, has patented a Flex-Hone tool, a ball hone for deburring and refinishing cylinder walls. The applications for this tool vary from golf club shaft finishing to much more complex finishing jobs. Since many criteria must be considered including tool size, abrasive and grit/grade, Brush Research Manufacturing customizes its industrial brush and tools to meet a customer's specifications, a relatively unheard of concept in the tool manufacturing trade.
Although many honing tools share similar characteristics, there is a significant quality difference between catalogue tools and a custom-adapted honing tool.
"There are over-the-counter hones but most are 120-grit silicon carbide, and that won't work for everything," says Technical Manager Keith Jones of Total Seal, a manufacturer of performance piston rings. "With the original ball hone you get a variety of media and the grit you need."
According to Jones, a failure to employ the right media and grit for engine cylinder wall finishing can detrimentally affect engine operation. Should the cylinder surface end-up too rough, too smooth, or out of the range of recommended finish numbers, the pistons may not seat.
"Our customers have stringent tooling requirements," he adds. "A racing engine has to be in top running order at all times."
For engineers, the ball hone is a highly specialized industrial brush that is instantly recognizable. Characterized by the small, abrasive globules that are permanently mounted to flexible filaments, the product is a flexible, low cost tool utilized for sophisticated surfacing, de-burring and edge blending.
One example involves "plateauing," a process by which cylinder walls are subjected to a bore finishing procedure that increases the life of both the cylinders and the piston rings. The goal is remove loose, cut, torn and folded material within the cylinder, create valleys and remove peaks that would otherwise damage rings or seals. The result is that more lubricant is retained, improving engine startup and performance.
"The trouble is, no two plateauing scenarios are alike," explains Jim Huffman, director of engineering, Salem Tools. "Frequently there's a finishing problem. The bore is either too smooth or too rough. A ball hone will eliminate such problems so long as the tool is adjusted to meet the application."
Miller Industrial Products Inc. is a job shop specializing in machining of disc brake motors and brake drums. "We've incorporated Flex-Hones into our operations," says President Bill Miller. "The machining of the inside of a brake drum must be very precise. You have to work to exact tolerances and Brush Research Manufacturing custom-engineered a flexible hone to meet that requirement."
The shop employs a flexible hone to resurface the inside of auto brake drums to create a non-directional surface finish, and limit "brake hum," Miller explains. In the past, this was accomplished with tedious grinding, but Brush Research Manufacturing engineered a flexible hone large enough to perform the task painlessly. Since that time, Miller has adapted the abrasive technology to do finishing work on brake rotors as well.
"The automotive industry runs on quick turnaround, and there's no time to buy equipment every time a new requirement arises," Miller adds. "Instead we call Brush Research and get a specialized industrial brush solution custom-built."
Contact Info:
Heather Fowlie
Brush Research Mfg. Co., Inc.
4642 East Floral Drive, Los Angeles, CA 90022
Phone: (323) 261-2193
Fax: (323) 268-6587
Web : http://www.brushresearch.com
###