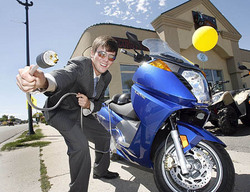 We are amazed with the performance and range of the Vectrix Electric Scooter
Salt Lake City, UT (PRWEB) September 18, 2007
Alternative transportation superstore Eco Moto recently announced its new distribution agreement for Vectrix Electric Scooters. The revolutionary Vectrix Electric Scooter will set Salt Lake City's "Future in Motion" for environmentally friendly transportation.
"We are amazed with the performance and range of the Vectrix Electric Scooter" said Jonathan Schlee, owner of Eco Moto. With a 68 mile range and 62 mile per hour top speed, the Vectrix Electric Scooter will set the standard for high performance electric vehicles in its industry. "Currently there is nothing like the Vectrix available on the market and we are extremely excited to offer this electric scooter as a means of practical, economical, and environmentally friendly transportation." The Vectrix is capable of completely recharging within 3 hours thus making the scooter entirely realistic for long range commuters. The scooter plugs into any standard household outlet and consumes an average of thirty cents for one full charge. The Vectrix is powered by a 20,000 watt electric motor that propels the scooter from 0 to 50 miles per hour in 6.8 seconds. The scooter's nickel metal hydride batteries are rated to last up to 10 years with regular commuting. Battery energy is recaptured during riding by twisting the throttle forward to slow the vehicle down - when riders choose to use this method over standard braking they will regain 50% of the distance traveled. With many other types of electric vehicles at Eco Moto, the Vectrix sets the precedent as the most powerful and practical zero emissions vehicle available at the store.
Eco Moto currently has a Vectrix Electric Scooter for demo on their showroom floor in Salt Lake City and units available for sale in four colors.
Contact: Eco Moto, phone 801-583-3390, Showroom 1050 South State Street Salt Lake City, Utah 84111, website http://www.ecomoto.net/vectrix/vectrix_01.html
###