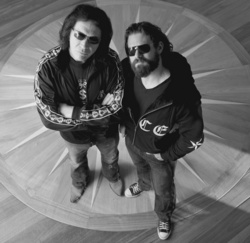 Los Angeles, CA (PRWEB) September 19, 2007
What do KISS founder Gene Simmons, Indy Car's Roth Racing team, and Todd McFarlane Entertainment have in common? Over the last few months, they've all teamed up with Dussault Apparel (OTCBB:DUSS), a leading luxury lifestyle brand that has many people talking.
In less than two years, this premium apparel company, has developed relationships among world-class celebrities, athletes, and entertainment figures around the world. But, it's Dussault's ability to partner with the likes of Gene Simmons, a world class racing team from the IndyCar® Series, and Todd McFarlane Entertainment (creators of the Spawn comic book franchise) that is helping enhance its brand and set it apart in a world denim market that grew to $50 billion in 2006.
Dussault Apparel has teamed up with Gene Simmons, member and founder of the rock band KISS, to launch his new "MONEYBAG" fashion line. Mr. Simmons, who has generated over a billion dollars in revenue, has a 50% joint venture with Dussault. The company recently sponsored and designed two Indy cars for the Roth Racing Team, which participated in the September 9 Peak Antifreeze Indy 300, presented by Mr. Clean, at the Chicagoland Speedway and broadcast by ABC in over 200 countries. And Dussault has licensing agreements with Todd McFarlane Entertainment, creators of the Spawn comic book franchise.
Recently appointed Dussault President, Terry Fitzgerald, is a big proponent of the team approach. As the former President and Co-Founder of Todd McFarlane Entertainment, Mr. Fitzgerald worked closely with Todd McFarlane to transform a comic book company into an international conglomerate, producing action figures, comic books, films and television programs with global distribution partners including Wal-Mart, Target, K-Mart, Toys "R" Us, Paramount Pictures, and Universal Studios.
Mr. Fitzgerald stated, "Luxury apparel brands such as True Religion have become near legends in the micro cap game, posting double-digit sales growth and an explosive share price. We believe that our current partnerships, our marketing initiatives, our established distribution partners, and our elite leadership team will enable us to continue to build a true global brand poised for explosive growth."
At Dussault Apparel, it's not just apparel. Or jeans. Or a hoodie or luggage. It's an experience. A way of life. And as the company continues to make a name for itself, consumers, investors, and partners will continue to keep an eye on every thread in the fabric of this luxury lifestyle brand.
Contact:
Dussault Apparel
Jeremy Poirier
Toll Free: 1-877-322-2732
Email: jp(at)dussaultapparel.com
###