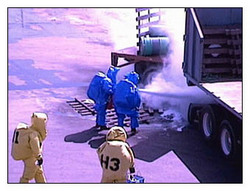 We've been in this business for over 15 years now
Novi, Mich. (PRWEB) September 20, 2007
Mastery Technologies, Inc., a leader in workplace health and safety training technology, proudly announces its release of two new courses available on Web, Intranet, or CD. Both media-rich courses utilize the full motion video and expertise of Excal Visual, a recognized leader in environmental, health, and safety training.
New titles include Spill Prevention, Control and Countermeasure (SPCC), based on EPA requirements, and HAZWOPER: Haz Matters - First Response, which meets OSHA requirements.
"We've been in this business for over 15 years now," said Mike King, president of Excal Visual, "and there has been a strong trend from the industry to move to this kind of CBT that Mastery provides. Mastery's interactive platform is very accommodating and easy to work with."
Spill Prevention, Control and Countermeasure
SPCC is aimed at employees in facilities with the capacity to store or handle in excess of 1,320 gallons of any oil or oil product (gasoline, heating oil, lubricants, residual fuels, vegetable and animal oils and other oils). "A lot of people think that this is for all chemicals," said King, "but this course is specifically focused on oil."
Thirty-eight course interactions help teach:

Effective spill prevention
Oil pollution regulations
Effective oil storage
Oil transfer procedures
Discharge procedure protocols
First response measures
Site security
Those in the petroleum industry (or any other industry that handles large quantities of oil) learn the importance of handling these potentially harmful materials," said Kirk Berry, Vice President of Sales for Mastery Technologies, Inc.
HAZWOPER: Haz Matters - First Response
HAZWOPER is focused on all personnel whose duties include being a First Responder to emergencies involving hazardous materials.
Thirty-seven interactions help first responders learn:
Lesson interactions provide opportunities for the worker to apply what he or she has learned. To ensure the promise of mastering all course objectives, each missed question is followed by a review of the specific content. At the end of each lesson's quiz, the learner's attention is focused on areas of difficulty until he or she can successfully demonstrate mastery. Questions are fully narrated, adding welcome support for learners with reading skill deficits. Narration also assists learners when English is their second language.
Both courses are equipped with Closed Captioning and provide Continuing Education Units.
"We are very excited about these courses," said Berry, "because they enable workers to meet regulations, behave safely, and respond properly if an accident occurs."
About Mastery Technologies, Inc.
Mastery Technologies, Inc., located in Novi, Michigan and Plano, Texas, has been a leader in workplace health and safety training technology since 1986. Mastery has partnered with leading video content providers to co-produce the largest interactive multimedia training library available today to the workplace health, safety and environmental marketplace. Mastery Advantage™ products are sold by Mastery Technologies, its licensed Content Partners and The Mastery Group. The Mastery Group is comprised of independent licensed distributors with in-depth experience in workplace training and technology.
###