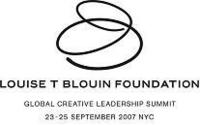 New York, NY (PRWEB) September 20, 2007
The upcoming second annual Global Creative Leadership Summit will provide a new globalization platform from which to develop such areas as the environment and climate change, international trade, foreign policy, education and Africa. More than 100 delegates, including heads of state, Nobel Prize winners, Olympic gold medalists, global CEOs and the most influential thought-leaders will gather in New York City on September 23-25, 2007 to attend the Summit. The event, organized by international non-profit organization Louise T Blouin Foundation, will be held at the Metropolitan Club (1 East 60th Street at Fifth Avenue, Manhattan).
From announcing new innovations to unveiling future research, the Summit will provide a laboratory of thought for the world's leading minds, identifying new ways to allow individuals, organizations and countries to develop and meet the new demands of the 21st century. All delegates will personally and actively participate in the discussions.
"The Summit will be a new platform for globalization," said Louise T Blouin MacBain, Louise T Blouin Foundation Chairman and founder of the Summit. "The new scale of globalization – and greater levels of threat – require us all to change: to act more globally, create innovative policy and deal with a multi-dimensional world. The goal of the Summit is to prepare us all - citizens, leaders, cities and countries - for these challenges. Taking a holistic approach - emphasizing cross-disciplinary and creative thought, and exploring advances in neuroscience - the Summit stresses the importance of developing dialog, empathy and cultural understanding among different societies."
With the United Nations as its strategic partner, the Summit will be an exclusive peer-to-peer event where leaders share best practice, learn from one another and develop new partnerships. The official record of the Summit will be used to influence organizations and agencies around the world.
All Global Creative Leadership Summit sessions will be open to the press. Members of the media interested in applying for credentials for the 2007 Global Creative Leadership Summit must call (212) 843-9301 or email LeadershipSummit @ rubenstein.com.
Summit Schedule (as of September 13, 2007)
For complete schedule, please see attachment
SUNDAY, SEPTEMBER 23
Spotlight on Africa: The voice of Africa and the ears of the world

Spotlight on Africa: Poverty and the potential for innovation and technology; Keynote Introduction - President Bingu wa Mutharika of Malawi
Changing Minds to Change the Climate; Closing Remarks - President Ólafur Ragnar Grímsson of Iceland
The Body, Health and Globalization; Keynote Introduction - Etienne Baulieu, Former President, French Academy of Sciences Collège de France
MONDAY, SEPTEMBER 24

Trade Saves: How international trade can burn or build bridges
Globalizing The Mind: Multi-dimensional thought in a multi-dimensional world; Keynote Introduction: President Bharrat Jagdeo of Guyana
Cities and Countries: Diversifying to survive
Markets Without Borders: Building businesses in a globalizing world
Global Agencies in a Globalizing World; Keynote Speech - Jaap de Hoop Scheffer, Secretary-General, North Atlantic Treaty Organization (NATO)
Spotlight on The Middle East: Media, mediation and the mind
The Click of a Mouse and the Check in the Box
Islam and Globalization
Foreign Policy is a Foreign Concept; Keynote Introduction: President Stjepan Mesić of Croatia
TUESDAY SEPTEMBER 25

21st Century Syllabus: Our children and our future; Keynote Speech - Prime Minster Jan Peter Balkenende of The Netherlands; Opening Remarks - Jane Goodall, UN Messenger of Peace and Founder, Jane Goodall Institute for Wildlife Research, Education and Conservation
Inside the Brain of the Terrorist
Image, Icon and Influence: The power of the visual image
Partnerships, Power and Potential: The responsibility of non-state organizations to change the world
Closing Remarks - Political Leadership in the 21st Century -- José Manuel Barroso, President, European Commission
Summary of Solutions and Actions -- Louise T Blouin MacBain, Founder and Chairman, Louise T Blouin Foundation and CEO and President, LTB Media
About the Louise T Blouin Foundation
The Louise T Blouin Foundation, founded in 2004 by Louise T. Blouin MacBain, promotes culture and creativity and their role in making societies stronger. Recent foundation projects include an OECD research initiative measuring cultural investment across the globe and the development of a new institute in Notting Hill, London. The foundation has two main aims: (1) To encourage a better understanding of foreign affairs and culture beyond borders through international cooperation, exchange and dialogue for the 21st century; and (2) To explore the broader practical significance of creativity and the creative potential of the human brain.
For more information about the Second Annual Global Creative Leadership Summit and its focus on globalization, climate change, international trade, foreign policy and education, please visit http://www.creativeleadershipsummit.org.
###