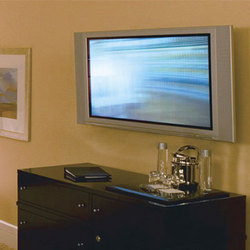 Boston, MA (PRWEB) September 20, 2007
MountsAndMore.com, the leading retailer of flat panel tv wall mounts and home theater installation equipment, provides simple mounting solutions and expert advice; enabling consumers to securely mount their own plasma and LCD screens.
With increased demand for flat panel TVs, the need for easy, secure mounting solutions and installation services has grown in kind. While big box stores are now starting to offer installation services, customers are finding higher quality mounts, a better selection of custom mounting options, and huge savings over installation service costs with do-it-yourself (DIY) alternatives.
MountsAndMore.com makes it easy to find the right mount for any screen with its proprietary Mount Finder and has all of the necessary tools to install a complete, customized home theater for less. In under a minute, customers can use the Mount Finder to select the perfect match for their TVs, with mounts for 10,000 models of flat screens from over 150 manufacturers.
Big box stores charge a minimum of $300 for a 26" flat panel installation with a fixed, flat mount, and prices increase for larger screens or tilting mounts. At MountsAndMore.com, you can buy a complete installation package including a flat or tilting wall mount, a stud finder, and an HDMI cable for under $100 and with free shipping. The only additional tools you need for a successful installation are a screwdriver and a friend.
Consumers who are concerned about mounting an expensive screen themselves should be reassured that mounting a screen is a very simple, 4-step process: 1) using a stud finder, locate the studs in your wall, 2) align the wall mount's hole pattern with the studs and attach, 3) attach the mount's adapter plate to your screen, and 4) with the help of a friend, slide the screen and adapter plate onto the wall mount. All MountsandMore.com mounts come with detailed installation instructions and expert customer support for advice and consultation on specific installation needs and questions.
People who opt for DIY mounting enjoy savings that will keep pockets lined for holiday shopping season, or make their home theater budget stretch further. Savings of $200 or more could pay for home theater add-ons like DVR, a superior cable package, or surround sound.
About Mounts and More(http://www.MountsAndMore.com):
Mounts and More, a part of CSN Stores, has years of experience as the leading retailer of flat panel mounts and home theater installation equipment, including cables, projector screens and mounts, and surround sound speaker mounting kits. With over 150,000 flat panel mounts shipped and screens installed to date, consumers can be confident that MountsandMore.com's expertise will be there to support them.
About CSN Stores (http://www.CSNStores.com):
CSN Stores is a leading online retailer of home and garden products, maintaining over 200 web sites in niche market segments. With over a million products across all of its stores, CSN offers consumers the largest selection of leading brands available on-line, great customer service and low prices. Sites include RacksandStands.com, HomeTheaterSeatingOnline.com, AllBarstools.com and CSNLighting.com.
###