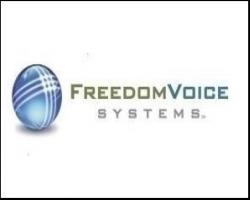 We are very proud and honored to be selected by such a respected business publication
Encinitas, CA (PRWEB) September 19, 2007
FreedomVOICE Systems, a leading provider of a wide array of integrated virtual office solutions, was named one of the 5,000 fastest growing private companies in America by the publishers of INC. magazine.
"We are very proud and honored to be selected by such a respected business publication," said Eric Thomas, FreedomVOICE Systems' founder and CEO. "We believe it's our focus on customer service that sets us apart from competitors and has propelled us to become one of the fastest growing companies in America."
The inaugural Inc. 5,000 fastest growing companies list recognizes success of the top entrepreneurial organizations and acknowledges many of the challenges associated with building and operating a business, according to a statement provided by John Koten, editor in chief, INC. magazine.
The Inc. 5,000, an extension of Inc. magazine's annual Inc. 500 list, catches many businesses that are too big to grow at the pace required to make the Inc. 500, as well as a host of smaller firms. Taken as a whole, these companies represent the backbone of the U.S. economy and report total revenue of $194.5 billion.
The INC. 5000 fastest growing companies list seeks to recognize a national-trend toward successful small and midsize companies in today's fast moving economy.
"The Inc. 5,000 provides the most comprehensive look ever at the most important part of the economy - the entrepreneurial part," said Inc. 5,000 Project Manager Jim Melloan. "The expansion of the list has allowed us to tell the stories of larger companies, older companies, and a wealth of companies in industries like Manufacturing and Construction that are underreported in the business media."
The Inc. 5000 fastest growing companies list was compiled by measuring percentage of revenue growth over a 3-year period, 2003-2006. To be eligible for inclusion of the list, companies had to be U.S.-based, independent, not a subsidiary of another firm and privately held.
Complete information on this year's Inc. 5,000, can be found at http://www.inc.com/inc5000.
About FreedomVOICE Systems
Founded in 1996, FreedomVOICE Systems (FVS) develops and markets a comprehensive slate of integrated virtual office solutions that allow businesses and professional offices to interact more effectively with their customers, clients, patients and associates. FVS' feature-rich systems and flexible technology enable users to enhance their image, communicate seamlessly whether by
voice, fax or email, track marketing effectiveness and promote their service by increasing their availability.
The company offers a wide array of products and services from 800-number toll free services to more advanced unified communications systems. For more information, please call 800-477-1477 or visit our web site.
http://www.fvscorporate.com
About Inc.com:
Inc.com, the Daily Resource for Entrepreneurs, delivers advice, tools, breaking news, and rich multimedia to help business owners and CEOs start, run, and grow their businesses more successfully. Information and advice covering virtually every business and management task, including marketing, sales, finding capital, managing people can be found at http://www.inc.com.
Contact:
Bruce Bond
FreedomVOICE Systems
800-477-1477 ext. 822
bruce @ freedomvoice.com
###