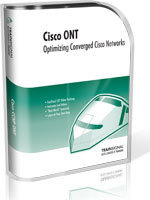 Getting your CCNP can be a very long and costly process. By offering step-by-step practical instruction, our hands-on computer based video training offers top-notch practical instruction from a real Cisco professional that provides the same, if not better, results than you'd find in a classroom - and in less time and for a sizeable savings
Rolling Meadows, IL (PRWEB) September 21, 2007
Rolling Meadows, IL PRWEB) September 21, 2007 -- Train Signal, Inc. has just released new Cisco ONT training, the third course in the new CCNP video training series covering course objectives established in 2007.
Among networking certifications, CCNP certification ranks among the top. According to salary studies, the CCNP can help network professionals reach higher paying positions with salaries averaging in the range of $70,000 to $100,000 per year. ONT certification is one of four courses of study required to achieve the CCNP. Getting ONT certified ensures an employer that a candidate has important knowledge and skills in optimizing and providing effective QOS techniques for converged networks.
Featuring over eight hours of all instructor led training, Train Signal's Cisco CCNP ONT video training includes the following topics: QoS Policy and Models,Queueing Methods (FIFO, PQ, WFQ, CBWFQ, WRR, and more), Marking and Classifying Traffic, Wireless LANs, WLANS Security, Voice over IP (including differences between Analog and Digital Interfaces), and more. The ONT course also offers complete certification coverage for the 642-845 ONT exam.
The ONT video training sells for $199.95, plus shipping. Because it features Windows Media Video compression, the course can be viewed with standard Windows Media Players and requires no additional software. Supplemental course materials include over 100 practice exam questions and over 250 pages of Instructor Notes.
The course is instructed by Chris Bryant (CCIE). Bryant, a veteran instructor and CCIE, has over 10 years experience in both the practical and theoretical sides of Cisco technologies.
Director of Product Development, Gosia Grabowska, says this about the new Cisco ONT video training, "Because more organizations are moving toward converged networks (one network for voice, data. and video), the new Cisco ONT Exam has changed its focus significantly from troubleshooting networks to actually making the network more efficient. And our new ONT course covers all these changes plus has everything the network professional needs to take a giant step closer to earning their CCNP."
Train Signal's Director of Sales and Marketing, Gary Eimerman, adds "Getting your CCNP can be a very long and costly process. By offering step-by-step practical instruction, our hands-on computer based video training offers top-notch practical instruction from a real Cisco professional that provides the same, if not better, results than you'd find in a classroom - and in less time and for a sizeable savings,"
Founded in 2002, Train Signal creates unique, high quality computer training products for the serious IT student and professional. Train Signal videos are shipped on CD-ROM, usually within 24 hours of order placement.
Train Signal has over 25 courses covering topics in Microsoft, Cisco, CompTIA, and Wireless Networking. Customers can purchase courses individually, or in Complete Bundle Sets on a convenient hard drive. Free demos for Train Signal video courses are available online.
For more product information, visit the website at http://www.trainsignal.com or call customer service at (888) 229-5055. For access to free IT training videos, exam questions, and the latest IT news, visit Train Signal's free training site at http://www.trainsignaltraining.com.
###