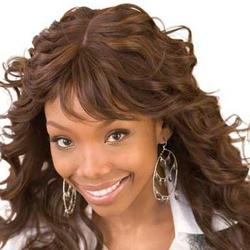 West Bridgewater, MA (PRWEB) September 20, 2007
Celebrity hair collections by Naomi Sims, Beverly Johnson, and Star Jones are already featured at one of today's largest online stores for trendy, fashionable wigs and hair extensions, WigShop.com. Today the company announced its newest celebrity hair collection with the addition of Brandy's clip-in and weave hair extensions made with Pro-10 Natural Protein Hair.
Brandy Norwood, known professionally as Brandy, is following in the footsteps of many celebrities before her by extending her talents of acting, singing, writing, and record producing to launching her own line of hair extension products. Discovered by Atlantic Records when she was a young girl, Brandy has had tremendous success as an actress with her own show on UPN, Moesha and major motion pictures roles. She is also a Grammy winning recording artist with a new album slated to be out later in 2007.
Brandy's hair collection on WigShop.com features Clip-in and Weave Hair Extensions with long cascading waves or crimped curls that add tons of volume. The Yaki Hair Weave and Clip-ins are available in 12 and 14-inches, starting at $24. The Pro-10 Natural Protein Hair has outstanding benefits and offers women incredible flexibility.
Benefits of the Pro-10 Natural Protein Hair include:

You can curl it, crimp it and blow-dry it
Styles quickly using lower heat
Tangle-free
Soft texture & natural luster
Long-lasting
Restores easily
To keep the hair like new, just refresh by applying water, then style away
WigShop.com is the premier online store for trendy, fashionable wigs, hair extensions, and hair related products and offers a unique style guide to help customers choose the best wig and color options. Launched in 2005 WigShop.com features products from top designers, stylists and celebrities including Naomi Sims, Star Jones, Paula Young, Beverly Johnson, Brandy, and many more. Orders can be placed online at http://www.WigShop.com or by calling 1-800-689-2587.
# # #