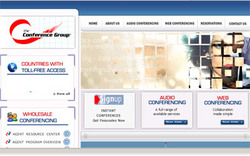 Newark, DE (PRWEB) September 20, 2007
Conferencegroup.com (http://www.conferencegroup.com)] is pleased to announce they will now offer their clients the ability to stream or download previously recorded audio conferences. This is a complimentary service and an additional tool designed for continued effective collaboration. The Conference Group is providing clients even more flexibility with the audio teleconferencing solutions. Notably, the streaming/downloading option has been designed for self-reliance, so clients don't require the involvement of the service provider in order to use it.
This teleconferencing solution is simple. After receiving the link automatically included in the end-of-conference summary, the conference leader can listen to the streaming audio, and send the link to other email recipients. The conference leader may also access The Conference Group's web portal to view a list of recorded conferences. By utilizing this web portal, the conference leader can select and stream a conference, request an email containing a link to replay the stream, or request an MP3 CD.
It complements the flexible teleconferencing solutions already offered by this customer oriented business. Packages range from "Reservationless" to "High Touch" conferencing, with various levels of "Web Conference" services available, which reflects The Conference Group's philosophy. Not everyone wishes to utilize every collaboration service available; that's why it's important to clients that they are able to pick and choose. Also, when it comes to using conferencing tools, the availability of self-service is paramount.
Teleconferencing company Principal Partner John Riggins explains, "The collaboration service industry has encouraged a trend towards self service and reliance. The Conference Group provides these types of capabilities, as exemplified by the audio streaming service. Initiate a recording on your own, then listen to the stream on the internet. When the time comes that the client needs, or simply desires, more personal involvement from The Conference Group, we are there. We make every effort we can to insure our clients' collaboration efforts are a success."
In addition to audio conferencing, The Conference Group offers ReadyShow® Web teleconferencing solutions that include PowerPoint, Excel, and Word publishing, real-time application and desktop sharing, polling, hand raising, and integrated chat.
For more information about this teleconferencing company, please visit conferencegroup.com.
About The Conference Group
Principal Partners John Riggins and Gary Greenhawk opened for business in 1999 with a "boutique approach" that has remained their objective. They focus on high quality service, regardless of size or spend volume. The Conference Group: Global, Experienced, Customized, is a teleconferencing provider that gives customers choices and opportunities for self-reliance when it comes to conferencing services.
###