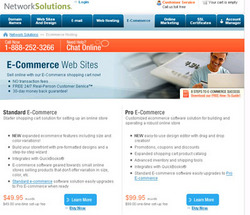 E-Commerce 101: How to Build an Online Store
Herndon, VA (PRWEB) September 20, 2007
In response to the small business e-commerce explosion, Network Solutions and Intuit® will present "E-Commerce 101: How to Build an Online Store" on September 25, 2007, at 2:00 p.m. EST via a Webinar This educational Webinar is designed for anyone who needs a primer on how to launch an online business, as well as how to determine the best e-commerce solution for their needs. Intuit, maker of QuickBooks® and other innovative finance management software like TurboTax® and Quicken®, is teaming up with Network Solutions, the award-winning complete small business online solution.
"E-Commerce 101: How to Build an Online Store" will provide a clear map of often unfamiliar e-commerce territory for owners and managers of real brick-and-mortar stores or for small business owners seeking a solely online presence. Network Solutions® and Intuit will address expectations of the typical online customer in addition to the essential components of a successful e-commerce Web site, and they'll familiarize attendees with tools like shopping cart and e-commerce Web site software. Small business owners will also learn how these can be enhanced by a seamless integration with Intuit's QuickBooks and QuickBooks Merchant Services.
Jeff Zimmerman, Network Solutions Vice President of Product Marketing and Management, explains, "The partnership between Network Solutions and Intuit provides our customers with access to industry-leading e-commerce Web site solutions, as well as business accounting solutions. We are looking forward to extending what we offer our customers to include this educational Webinar, which will answer nearly any question that a small business owner may have about going online."
Network Solutions and Intuit recognize that the small business owner has been nudging into the Internet marketplace for some time. However, with the recent surge of profitable e-commerce, those who are business smart but not necessarily Internet savvy are looking for guidance and e-commerce solution tools to simplify the transition. A full understanding of e-commerce concepts and software options can clarify and inform. The bottom line is helping the small business person realize profits and expand business in selling products and services online.
For more information on the upcoming Webinar, please visit NetworkSolutions.com.
About Network Solutions:
Network Solutions, in business 28 years, operates offices in Virginia, Illinois, Pennsylvania and Toronto. The company specializes in online marketing services to small and medium sized businesses. It offers both individual products and a range of solutions packages. These include Web sites and Web site design, logo design, e-commerce solution packages integrated with Intuit's QuickBooks, shopping cart software, security certificates and online marketing services. This last option includes search engine optimization and pay-per-click management, press release writing and submission, and link building, all acknowledged methods of getting noticed by potential clients and customers on the Web.
###