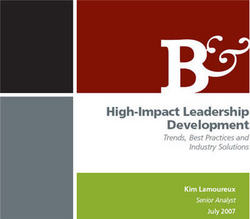 The Bersin report is breakthrough research to help organizations make better-informed decisions, reflecting Bersin's broader approach in helping organizations identify and incorporate best practices in developing effective leaders
Seattle, Wash. (PRWEB) September 20, 2007
Impact Achievement Group has been named among the top leadership development vendors in a new research report from Bersin & Associates, "High Impact Leadership Development: Trends, Best Practices and Industry Solutions."
The company scored impressively in the report's Leadership Vendor Market Map, alongside such industry veterans as AchieveGlobal, DDI, SkillSoft and CCL. These leading vendors are analyzed and profiled in research collected for the report by Bersin, a respected independent research firm focused on enterprise learning and talent management.
"Impact Achievement Group is quickly establishing itself among the top-tier vendors in the leadership development market, attracting a premium list of clients," said Josh Bersin, president and founder of Bersin & Associates. "They offer a powerful suite of solutions that represent research-based best practices and years of practical experience with a very competitive fee structure."
Bersin also noted their use of valuable tools and techniques such as their Leadership Impact Survey ™ and their 5-on-5 tool, which greatly improve performance evaluation processes, alignment, employee performance levels and ROI.
In the Leadership Vendor Market Map, Impact Achievement Group ranked highly for its Scalability and Breadth of Leadership Content, including such areas as leadership & management development, customer loyalty, succession planning, coaching, assessments, and performance management consulting.
Building on its record growth and profitability over five years, Impact Achievement Group doubled its client base and revenue during 2006. According to Lee Klepinger, president and chief executive officer, the company's success is due to its commitment to personalized service, quality of solutions, and value pricing.
"The Bersin report is breakthrough research to help organizations make better-informed decisions, reflecting Bersin's broader approach in helping organizations identify and incorporate best practices in developing effective leaders," said Klepinger. "Our approach focuses on providing clients with highly practical, story-based workshops, coaching, and blended solutions based on leading-edge assessments."
For those interested in purchasing a copy of the Bersin report, please visit: http://www.bersin.com/research/hild_launch.asp
About Impact Achievement Group
Impact Achievement Group is a training and performance management consulting company that provides assessments, coaching, story-based interactive workshops, and simulations for managers at all levels of the organization. Impact Achievement Group helps companies worldwide dramatically improve leadership and management competency for bottom-line results. Company experts and co-authors of "People Leave Managers…Not Organizations," Rick Tate and Dr. Julie White are internationally recognized authorities in leadership development, human performance, service quality and communications. For more information, visit http://www.impactachievement.com.
This press release was distributed through eMediawire by Human Resources Marketer (HR Marketer: http://www.HRmarketer.com) on behalf of the company listed above.
###