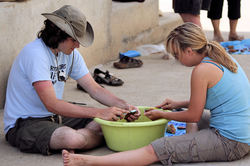 They want to go abroad
Indiana, PA (PRWEB) September 21, 2007
Robert E. Cook Honors College (http://www.iup.edu/honors) students from Indiana University of Pennsylvania (http://www..iup.edu) journeyed to one of the world's most popular tourist destinations to explore its modern day culture and uncover its past.
Led by Dr. R. Scott Moore, an IUP history professor (http://www.chss.iup.edu/history/), the team unearthed artifacts over the summer from the site, where close to the sea on the Mediterranean island of Cyprus a settlement flourished in the seventh century.
"There is something utterly serene about archaeological survey," said Slade Powell, a senior history major and Asian studies minor from Pittsburgh, Pa. "You might feel permanently hunched from bending over the tilled dry ground and the Cypriot sun might be baking you in your clothes like a potato in its skin, but somehow none of that makes a difference. You just line up your compass anyway, walk your straight line, and decide which fragments of a dead civilizations' remains are worth the eight seconds it takes you to put them in your plastic bag."
Students discovered beyond the books what archaeology entails.
"I gained an overall appreciation for the process of actively pursuing archaeology," said Mara Iverson, a junior history major from Vandegrift, Pa. "I also learned a great deal about what I like to study in history and how I enjoy going about studying it."
Iverson also discovered that, "Archaeology is not for me, though it is exceptionally valuable as a method for uncovering the past. I also learned that I prefer the ideological rather than the practical. I like thought exercises and document research more than standing outside in the elements collecting physical data."
In the fifth year at the site, near the city of Larnaca, Moore and student scholars continue to excavate and study artifacts to compare the culture of that settlement along the southern coast of Cyprus to similar eastern Mediterranean sites. The work is part of the Pyla-Koutsopetria Archaelogical Project (PKAP) and is co-sponsored by the University of North Dakota.
"Our primary goal is research," said Moore, director of the project. The focus, he said, is to discover what the archaeology shows about the trade, commerce and economics of the area. "Cyprus is a major tourist attraction but we are fortunate in that the area we are working hasn't been built up."
Moore said the field experience enhances the academic learning.
"It's reinforced in a different way than can be accomplished in the classroom," Moore explained. "We designed the project to be like a field school that provides hands-on experience. What I like about archaeology is that it borrows new techniques and technologies from other disciplines."
Said Powell, "I didn't care about archaeology when I decided to go. I just wanted to see the country and maybe get an idea of what living abroad would be like. We visited sites all over the island: late Roman baths, early Byzantine basilica, one very early Christian church with
semi-preserved wall paintings, an Ottoman mosque, and modern Nicosia along the Green Line. I can't even do justice to the variety and beauty of the sites we visited on our weekend trips.
Weekdays were just as busy, and just as wonderful."
Students were also exposed to the collision of modern-day politics and culture. Cyprus today is divided into Turkish and Greek zones. While relations have improved between them, the border is still monitored by United Nations peacekeepers.
"For the students, they are exploring a different culture," Moore said. "I think it's very important for students to get out of their comfort zone. By doing this, you broaden your world and gain a better understanding of other cultures. Who knows, you might consider doing something different with your life."
Moore, who spends six weeks at the site every May and June, usually takes up to five students to the site where they spend three weeks collecting and documenting artifacts that are stored in the Larnaca District Archaeological Museum.
The draw for students is more than the educational aspects. "They want to go abroad," Moore said. "Cyprus sounds cool and exotic. It adds to their experience. It is very safe, yet so different."
And that kind of exposure, he said, will help shape the students' view of the world.
"I learned about a part of the world I do not often encounter in my studies," Iverson pointed out. "Cyprus combines Middle Eastern and Mediterranean culture. It was fascinating to see their history because America's is so much shorter and more insulated. Cyprus, being a relatively prosperous island in the middle of a busy sea, bears the marks of the trade in goods and ideas that constantly moved through the ports through the centuries and continues today."
Moore, who has plans to continue the program through at least 2011, is also looking for answers about the end of that once-thriving coastal community.
"If they were conquered or left," he ponders, "why didn't they return and rebuild? Did they move inland or were they wiped out?"
The answers may lie in the archeological finds. While local farmers have tilled up many artifacts, the teams look further below the surface for answers.
# # #