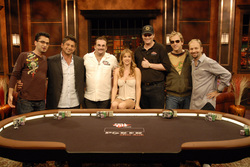 Las Vegas, NV (PRWEB) September 21, 2007
If the popularity of last season's match that featured Phil Hellmuth's famous blowup while playing at the table with Shawn Sheikhan is any indication, then this week's match on NBC's Poker After Dark should have viewers flocking to their television sets and recording devices. These two archrivals return to face one another once again in a match filled with drama and table chatter and a lot more than just the $120,000 winner-take-all prize on the line.
But these two combatants are not the only rivals in this match. Good friends Phil Laak and Antonio Esfandiari will also be at the table, with Esfandiari looking to even the score against Laak for beating him heads-up in an entertaining match during PAD's first season. Nothing brings either greater satisfaction than to bust the other out of a tournament or a cash game.
And if the above rivalries aren't enough for you, then let's add Mike Matusow and Daniel Negreanu to the mix. In addition to playing against one another frequently on "High Stakes Poker," these two friendly rivals met in the first round of the 2007 National Heads-Up Poker Championship, and are always in each other's face with table talk. Combined with the banter between the other players, this match is one that viewers will not want to activate the mute button on their remote controls for while watching.
Matusow, of course, is one of the game's premier trash talkers, as is Sheikhan, and the two have had some memorable exchanges during other events in the past, particularly during the 2005 World Series Championship. And Hellmuth is no stranger to Matusow's taunting either, as these two needle each other incessantly while playing against one another in an attempt to put the other on tilt.
Brief profiles of all six players follow. The match will begin airing on NBC late night Monday at 2:05 AM, September 24, and will continue for five consecutive nights in the same time slot. A special program called the "Director's Cut" will air late night Saturday, September 29, at 1:00 AM, right after Saturday Night Live. This show will feature a behind-the-scenes look at the week with highlights and insightful player interviews.
Each of the match's six segments can also be viewed daily at http://www.nbcsports.com/poker. More detailed information on the players is also available there and at http://www.pokerafterdark.com.
At times, this match resembles poker's version of the movie "Animal House," especially during the first two levels. But make no mistake; revenge has to be in the back of each of these players' minds so there is plenty of motivation for them to win besides the prize money. In the world of televised poker, these 6 players are all huge draws, whether fans like their antics or not. In a nutshell, this match is a classic, and makes for must viewing.
Antonio Esfandiari: (Seat 1)

Nicknamed "The Magician" for having been a professional magician before becoming a poker player
Winner of one WSOP bracelet and one WPT event
Career tournament winnings in excess of $2.79 million
Shawn Sheikhan: (Seat 2)
Nicknamed "Sheiky" or "The Sheik," and is known for talking smack at the tables
Primarily a high-stakes mixed cash game player who occasionally plays tournaments
Career tournament winnings in excess of $1.24 million
Mike Matusow: (Seat 3)
Known as "The Mouth" for trash talking at the tables
Winner of two WSOP bracelets
Lifetime tournament winnings in excess of $5.66 million, and ranks 22nd on the all-time money list
Phil Hellmuth: (Seat 4)
Known as the "Poker Brat," a name he now embraces, and was inducted into the Poker Hall of Fame in July 2007
1989 World Champion, and won his 11th World Series bracelet in 2007, making him the first person in history to do so
Career tournament winnings in excess of $9.58 million, and ranks 4th on the all-time money list
Phil Laak: (Seat 5)
Nicknamed "The Unabomber" for the trademark hooded sweatshirt and sunglasses he usually wears
Known for his unusual and often humorous antics and mannerisms at the table
Career tournament winnings in excess of $1.27 million
Daniel Negreanu: (Seat 6)
Dubbed "Kid Poker" and one of poker's most likeable and recognizable personalities
Owns three WSOP bracelets and two WPT titles
Lifetime tournament winnings in excess of $9.78 million, and ranks 3rd on the all-time money list, 1st on the WPT all-time money list
This press release was written by Dennis Oehring, who is a freelance writer and poker consultant and works with the firm POKER-PROductions. Statistical information courtesy of The Hendon Mob player database. Photo courtesy of NBC's Dave Bjerke.
###