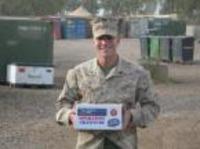 I remember thinking 'Is there any way to really thank our troops for the sacrifices they and their families make?' Probably not, but we can band together to thank them with a special card to tell them they are not forgotten this Veteran's Day or for this holiday season
Flagstaff, AZ (PRWEB) September 20, 2007
Thanking our soldiers just got easier as PremierBusinessGreeting.com launches its Thank-A-Vet program for Operation Gratitude and other non-profit military support organizations. The challenge is to overwhelm our troops overseas with cards and gifts and to find America's most thankful cities and towns. The program starts September 20, 2007 and runs through December 31, 2007. The American town which sends the most greeting and holiday cards to the American troops overseas will be announced on January 1, 2008.
Premier Business Greetings, http://www.premierbusinessgreetings.com, wanted to do something to thank the men and women fighting for our safety and freedom this Veteran's Day and Holiday season. Owner Charylle Wolfe said the answer was looking her in the face everyday. Why not organize a massive, overwhelming campaign to send greeting and holiday cards to our troops overseas? After all, Premier Business Greetings is a full service, personalized greeting card service creating referral business for her customers through sending thank you, birthday and remembering you cards to their client base. So Wolfe took on the task of finding a partner who could deliver personalized messages to the troops from families and businesses who wanted to say thanks. The challenge to find the most grateful town was the fun.
"I remember thinking 'Is there any way to really thank our troops for the sacrifices they and their families make?' Probably not, but we can band together to thank them with a special card to tell them they are not forgotten this Veteran's Day or for this holiday season," states Wolfe, a life-long resident of Flagstaff.
Each card sent is only $5.00 which includes a 100 percent per card net profit donated to Operation Gratitude and other participating non-profits serving the military and their families. Patriotic and Holiday Greeting cards are available and can be personalized online at Premier Business Greetings Thank-A-Vet and will be shipped to military personnel overseas. A list of all donors by location will be listed on the website when the first count is announced on Veteran's Day, November 11, 2007.
Companies and organizations, as well as individuals and families are encouraged to donate a card per employee. Donations made less the costs are tax deductible and receipts over $100 will be issued for tax purposes. Discounts are available for larger quantities.
Operation Gratitude is the 501 (c) (3), all-volunteer organization that sends care packages of items and letters addressed to individually named U.S. Service Members deployed in hostile overseas regions. Its mission is to lift morale, bring a smile to a service member's face and to express to all troops the appreciation and support of the American people. Since its inception in March 2003, Operation Gratitude has shipped more than 250,000 packages to American troops deployed overseas.
For more information about how to purchase cards for U. S. Service Members, please contact Charylle Wolfe at 928-853-4009 or buy online at Premier Business Greetings Thank A Vet
MEDIA
For interviews please contact Ms. Wolfe's Los Angeles based representation, Maureen O'Crean at 310-379-9620 or email through http://www.maureenocrean.com
# # #