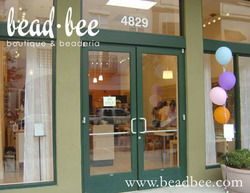 The store is all about inspiring and sharing creative ideas. It is a great place for people of all ages, but I focus a lot on kid's activities too because the love of beading and creating is something that I discovered as a child
Orlando, FL (PRWEB) September 20, 2007
Bead Bee Boutique & Beaderia™ will host its Grand Opening in on Saturday, September 22, 2007 from 10 a.m. to 8 p.m. During this event, everyone will get 15 percent off jewelry, gems, crystals, beads, tools and much more. Grand Opening activities will include free basic beading seminars at 10:30 a.m. and 2 p.m., face painting from Noon to 2 p.m.
Located in the pedestrian friendly village center of Baldwin Park Village Center, Bead Bee Boutique & Beaderia™ is a great setting for kid's crafts, girls' night out, creative family time, or something different to do with your sweetheart (yes, beads are a big hit with guys too!). It's the only place where you can watch a movie while shopping for or creating your own designer baubles.
The Bead Bee Boutique & Beaderia™ vision comes from owner Joyce Lee who has been designing jewelry, drawing and painting all her life. With her own line of jewelry named Perla Jewels, she has created jewelry for celebrities like Courtney Cox, Lisa Kudrow and Shaquille O'Neal. Now, her retail store gives others the opportunity to create jewelry and accessories of their own style.
"The store is all about inspiring and sharing creative ideas. It is a great place for people of all ages, but I focus a lot on kid's activities too because the love of beading and creating is something that I discovered as a child," says Lee.
Step in for two unique experiences ...
The "Boutique" features exquisite artisan made jewelry, art and gifts masterfully designed and created in-house with exquisite materials such as sterling silver, Swarovski crystals, natural gemstones and pearls. Custom jewelry design services are also available for gifts and occasions including weddings and proms.
The "Beaderia™" is an in-store studio for you to create your own accessories like bracelets, necklaces, earrings, wine charms, key chains, and anything else you can invent with Swarovski Crystals, beads, shells, charms, string, stickers, ribbon -- the list goes on and on. You will be inspired by strands of shimmering crystals, gemstones and glass. They also have great crafts for kids like personalized crowns, picture frames and key chains. You can also add beads and gems to your next party by hosting it at Bead Bee™ or take home Beads to Go™. Beads to Go™ let's you take all the supplies you need to have bead and craft activities in any setting.
Whether you visit the store or get Beads to Go™, Bead Bee's offerings include: Alphabet Beads (including numbers and specialty styles), Swarovski Crystals, Czech Glass, Seed Beads, Shells, Natural Gemstones, Pearls, Wood Beads, Charms, Acrylic & Plastic Beads, Sterling Silver, Thai Silver, Gold Filled, 14k gold, 18k gold, Pewter, Tools, Findings, Wire, Chain, Scrapbooking supplies, and Kid's Crafts including Foamies™ licensed Disney projects.
October events include a Gemstones & Exotic Metals Trunk Show as well as music, movies, treats and projects on Halloween Day. The store will also be hosting a Kid's Pumpkin Craft Contest during the entire month of October. Monthly kid's contests will be announced. Keep up with future events at the store website at http://www.beadbee.com. For those who do not live in the Orlando area, you can also shop at the store's website which will also feature trunk shows online (http://www.beadbee.com).
Save the date for following events (further details are available on the store's website at http://www.beadbee.com):
Saturday, September 22, 2007
Grand Opening Event. 10 a.m. to 8 p.m. 15% off all merchandise all day. Free Basic Beading Seminar at 10:30 a.m. and 2 p.m. Face painting from Noon - 2 p.m. Enjoy refreshments while you shop.
Saturday, October 13, 2007
Trunk Show: Gemstones & Exotic Metals. 10 a.m. to 8 p.m.
Wednesday, October 31, 2007
Halloween: Music, Movies & Treats 10 a.m. to 8 p.m.
Saturday, November 10, 2007
Trunk Show: Swarovski Crystal & Czech Glass. 10 a.m. to 8 p.m.
Saturday, December 8, 2007
Trunk Show: Perla Jewels Designer Jewelry. 10 a.m. to 8 p.m.
Complete your holiday shopping with one of a kind jewelry pieces.
Saturday, December 15, 2007
Trunk Show & Workshop: Scrapbooking & Beads. 10 a.m. to 8 p.m.
Find great ways to keep your holiday memories.
Contact:
Joyce Lee, Owner
Bead Bee Boutique & Beaderia
4829 New Broad Street
Orlando, FL 32814
407-895-0062
http://www.beadbee.com
# # #